By DAN LAMOTHE, Capital News Service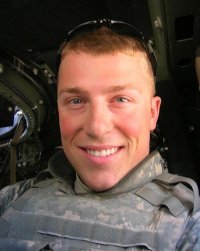 WASHINGTON - Growing up in a small mountain town in northwestern Massachusetts, Ari D. Brown-Weeks struggled with school, becoming the quintessential class clown before dropping out and earning his GED.
It wasn't until he met future wife Ashley Tillery and moved back to her hometown of Abingdon, Md., that his life came into focus, friends said. He enlisted in the Army in May 2006, joining the famed 82nd Airborne Division, known for its daring on the front lines. Then, on Dec. 10, a month before he was deployed to Iraq, he married his girl.
On Monday, September 10, 2007, the radio operator and paratrooper, 23, became at least the 70th Maryland death in the war and subsequent occupation of Iraq. Army Spc. Ari D. Brown-Weeks died from wounds sustained when a truck he was traveling in rolled over in Baghdad, killing seven soldiers, Army officials said Thursday.
Friends from both Maryland and Brown-Weeks' hometown of Leyden, Mass., remembered him as someone who had a great sense of humor, but believed strongly in his mission with the Fort Bragg, N.C.,-based 1st Batallion, 325th Airborne Infantry Regiment, 2nd Brigade Combat Team.
"He always spoke of how this place was an insane adrenaline rush, but all he ever wanted to do was get his deployment over so he could return back home to his wife and see his family," said Army Spc. Michael Letourneau, a high school classmate also stationed in Iraq, via e-mail.
"It seemed like no matter what I would talk about, he would always slip in a comment about how much he loved his wife," Letourneau said.
Friends said Ashley Weeks, 21, had sent out a few messages thanking others for their support via the social networking Web site MySpace. She could not be reached for comment.
Crystal Antonelli, a family friend from Bel Air, said the couple corresponded as frequently as possible, keeping in touch mostly through e-mail and instant messages on the computer.
"While he was gone, Ashley took care of everything," said Antonelli, who is engaged to Ashley Weeks' cousin. "She was his support system when things were bad over there."
On his MySpace page, Brown-Weeks said he was happy his deployment was ending in a few months, and described himself as "loyal to friends, family, my beautiful wife, the guys to my left and right and to anything I believe in or care about."
He also said, sarcastically, that he was "living the dream in Baghdad, Iraq," coping with a "daily barrage" of enemy fire and improvised explosive devices, which are commonly used as roadside bombs.
Before meeting his wife, Brown-Weeks took a warehouse job with C & S Wholesale Grocers in Hatfield, Mass., and eventually transferred to another of its warehouses in New Jersey. He met Ashley there and decided to move to Maryland.
Becky Vishaway, a longtime friend and high school classmate at Pioneer Valley Regional School in Northfield, Mass., said Brown-Weeks had considered going into the military a few years ago, but decided he wasn't ready.
On one of his last visits to Massachusetts, though, he revealed he was enlisting and planning to propose, nervously wondering whether Ashley Weeks would accept.
"He'd never had any real direction," Vishaway said. "He was changing his life, and it was so nice to see."
Brown-Weeks earned the Bronze Star, the Army Commendation Medal, the Army Achievement Medal, the National Defense Service Medal, the Iraq Campaign Medal, the Global War on Terrorism Medal, the Army Service Ribbon, the Overseas Service Ribbon, the Combat Action Badge and the Parachutist's Badge.
"Specialist Brown-Weeks was a true American hero," said Capt. Patrick Koucheravy, of the 82nd Airborne Division, in a prepared statement. "He will sorely be missed by anyone who had the honor to serve with him."