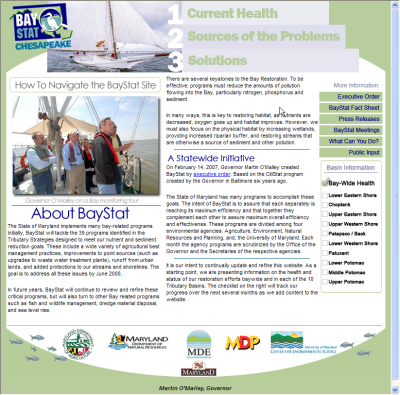 Based on then-Mayor O'Malley's CityStat for Baltimore, BayStat is a new tool designed to bring transparency to the business of restoring the Chesapeake Bay.
ANNAPOLIS (September 18, 2007) — Last Wednesday, Governor Martin O'Malley officially launched Maryland's BayStat website:
www.baystat.maryland.gov
. The Governor's office calls BayStat an innovative new tool that will afford citizens greater, more immediate access to information on the health of Chesapeake Bay and its tributaries, and the status of related State programs and decision-making.
"We designed BayStat to help us better coordinate, track, target - and ultimately improve—
our statewide restoration efforts," said Governor Martin O'Malley. "This new website takes State accountability to a new level, bringing transparency to the business of restoring the Bay by affording our citizens access to candid interpretations of the Bay's health and the effectiveness of the programs that address it."

While still in its infancy, data about water quality, nutrient and sediment loads, biotic integrity, fish species, wetlands and forest buffers are already available through the website, and enhancements are being made daily.

"The site will provide citizens access to much of the same data we use to evaluate State activities and monitor setbacks and successes," said Dave Goshorn, Director of the Maryland Department of Natural Resources Office of Sustainability and the agency's BayStat coordinator. "Hopefully, this information will also help inspire Marylanders to take the individual actions we know are necessary for a full Bay recovery."

Created by Executive Order on February 14, 2007, and based on Baltimore's CitiStat program, BayStat was implemented to advance accountability and coordination among key government agencies. Its chief function is to provide the impetus to regularly evaluate state initiatives directed at improving the health of the Chesapeake Bay, ensuring these programs are coordinated and operating at the highest efficiency.

While StateStat applies similar methods to monitor the performance of individual state agencies, BayStat cuts across disciplines at the Departments of Agriculture, Environment, Natural Resources, and Planning to assess Chesapeake Bay related activities. By tapping into the information and resources of these four agencies, as well as the University of Maryland, BayStat can provide a much clearer picture of the current status of the Bay, predict future threats, and help scientists learn how one seemingly unrelated restoration program influences others.

BayStat data is helping the State target resources and programs, including those designed to reduce atmospheric pollution reaching the Bay, help Maryland farmers use pollution-reducing methods, improve wastewater treatment facilities, determine the impact of development on the environment and enforce laws regulating pollution. Governor O'Malley holds monthly BayStat meetings with agency staff to both review performance on Bay restoration programs and explore ways to improve that performance.

"As a matter of public responsibility, Maryland's government and its citizens have an obligation to protect the Bay," the Governor added. "BayStat is allowing government and citizens to track the progress being made on improvements to our most treasured resource, and helping us chart a new course for navigating the multifaceted, interconnected State programs to aid the Bay."

Source: Gov. O'Malley's Office