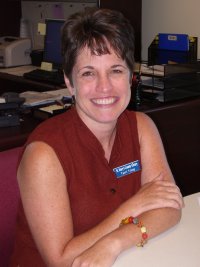 LEXINGTON PARK, Md. (September 18, 2007)—St. Mary's County Library Director Kathleen Reif today announced the appointment of Teresa Tresp to the position of Branch Manager at the Lexington Park Library, effective Monday, September 10, 2007. Tresp replaces former Branch Manager Janice Hummel who retired in August.
Tresp has a Masters in Library and Information Science from Drexel University. She has worked in the Anne Arundel County Public Library system for the past twelve years. Most recently she served on the West County Area Library management team setting branch policies and supervising the day-to-day operations of the 40,000 sq. ft. facility.
"I'm excited to be a part of a growing community that shows so much affection and support for its library," said Tresp. "I grew up in Southern Delaware and St. Mary's County very much reminds me of my old stomping grounds so I'm feeling right at home."
Before joining the library profession, Tresp worked as a journalist and public relations specialist. In her spare time, she enjoys kayaking, volleyball, food and wine tastings, crosswords and, of course, reading.