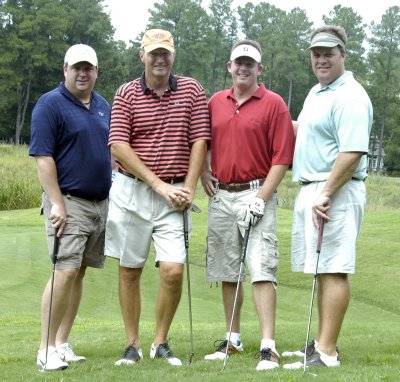 The Primary Residential Mortgage team won first place for the second consecutive year at the CSM Foundation's 16th Annual Golf Classic. Team members are from left Eric Grainger, Warren Teets, Dave Ashton and Kirk Smith.
LA PLATA, Md. (September 18, 2007)—The College of Southern Maryland (CSM) Foundation's 16th Annual Golf Classic raised more than $50,000 for programs that will benefit CSM students, announced CSM officials today. Held on Thursday, Aug. 23, at Swan Point Yacht and Country Club, the tournament hosted 130 golfers.
The foursome sponsored by Primary Residential Mortgage took home the first-place award. Team members were Eric Grainger, Kirk Smith, Warren Teets, and Dave Ashton. The second place team, sponsored by Community Bank of Tri-County, was Greg Cockerham, Mike Middleton, Gordon O'Neill III, and Joseph O'Neill. The King Electric team of Rob Hoferkamp, Tom Hejl, Calvert County Sheriff Mike Evans, and Joe Hudson finished third.
Other winners included Joseph O'Neill for the Men's Longest Drive and Sara Middleton for the Women's Longest Drive. The Closest to the Pin competition winners were Kirk Smith and Carol Sprague.
Marrick Homes was the Grand Tournament Sponsor for this event for the fifth straight year. "They have been a tremendous supporter of the CSM Foundation," said Jane Loughran, CSM development director. Other corporate sponsors include Chaney Enterprises, Community Bank of Tri-County, Maryland Bank and Trust Company, NA, and the Show Place Arena.
For information on the foundation, or to participate in next year's tournament 301-934-7649, or 301-870-2309, 240-725-5499, or 443-550-6199, Ext 7649.