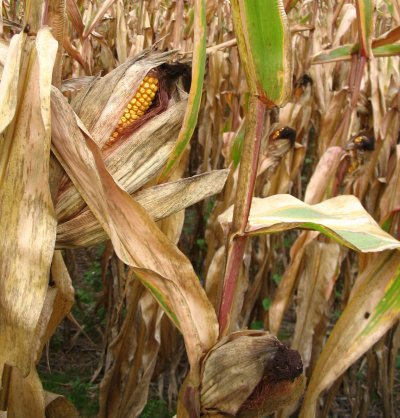 The state is making loans available to farmers who have been hit by this year's drought, which has sharply cut crops like this corn on a farm in southern Anne Arundel County. (CNS Photo/Kenneth R. Fletcher)
By KENNETH R. FLETCHER, Capital News Service
ANNAPOLIS - For the first time ever, the state will offer low-interest loans to farmers suffering from what some say is the region's worst drought in years.
The loans of up to $150,000 each are being offered through the Maryland Agricultural and Resource Based Industry Development Corp., which started operations this spring. State officials said MARBIDCO, a quasi-public agency that uses state money to encourage rural industries, can offer the money on short notice because it has flexibility that state agencies do not.
The loans come as this year's corn harvest is expected to be the lowest since 2002, and 34 percent lower than last year. The drop comes even though 10 percent more land is in corn cultivation this year, according to a report by the National Agricultural Statistics Service.
The drought hit Southern Maryland and the Eastern Shore the hardest. Salisbury's total 2007 rainfall so far is 9.41 inches below normal, while Baltimore-area rainfall is 6.64 inches below normal, according to the National Weather Service.
"It's unfortunate that a lot of farmers will need to take out loans as opposed to taking their farm profits," said Lynne Hoot, executive director of the Maryland Grain Producers Association.
Charles County farmer Chip Bowling agreed that it has been a tough year for farmers.
"This is one of the worst droughts that my father has seen," Bowling said. "He has been farming for 55 years."
While federal loans have long been available through the U.S. Department of Agriculture, farmers complain that the approval process is too cumbersome. Federal loans require that farmers provide two rejection letters from banks, which is hard for many because their land is considered collateral, said Sue DuPont, spokeswoman for the Maryland Department of Agriculture.
"It's usually too many hoops to jump through for me," said Edward Stanfield, a corn farmer in Baltimore County.
Stanfield said he has lost about half his crop to the drought this year, but he never considered taking out a USDA loan because of the requirements.
A MARBIDCO loan will only require a referral letter from the farmer's bank and proof that they were hurt by the drought. Loans can be paid back over a period of up to seven years at 5 percent interest.
But Bowling said he is not interested in the state's loan offer, even though he is harvesting between 35 and 80 bushels of corn per acre on land that can produce 150 bushels per acre in a good year.
"I don't need a low-interest loan from the state," he said. "I am lucky enough to be able to plan for these bad years. Most farmers don't need another loan, they just need to get their bills paid."
While the Maryland state loans will help some farmers, they will not make up for the losses from this drought's devastation, Hoot said.
"It is better than what they can do from a bank, but it's not going to save Maryland farmers," said Hoot. "It might help them survive."
Farmers interested in a state loan should visit
http://www.marbidco.org/