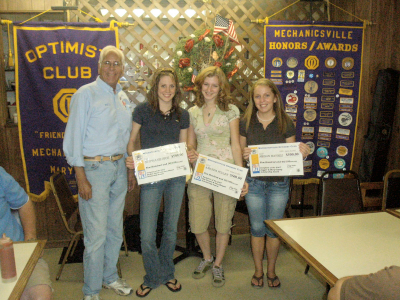 Three of the four St. Mary's County students who received college scholarships from the Mechanicsville Optimist Club. Shown from left to right, Optimist Gregg Fisher, and students Stephanie Rice, Amanda Pullen, and Megan Haynes. Not Pictured: Lauren Norris.
MECHANICSVILLE, Md. (Sept. 5, 2007) - The Optimist Club of Mechanicsville today announced the award of scholarships to four St. Mary's County students. The recipients are Megan Haynes, Lauren Norris, Amanda Pullen, and Stephanie Rice. Each award was for $500.
Each of the four awards was named in honor of past Optimist members who served the Club. "Not only do these scholarships provide much needed financial assistance to local students, they help to carry on the memory of lost members as the Club proceeds with its mission to bring out the best in kids," noted Cindy Dixon, spokesperson for the Mechanicsville club.
The 2007 Dagger & Mary Copsey Scholarship was accepted by Megan Haynes, a 2007 graduate of Chopticon High School. Haynes will be attending the University of North Carolina where she plans to major in Biology and proceed to Physician's Assistant School.
The 2007 Robert Sievers and Samuel Morgan Scholarship was presented to Amanda Pullen, a 2006 Chopticon High School graduate who begins her Sophomore year of college at the University of Mary Washington in Fredericksburg this fall. Pullen is a double major in French and English and intends to pursue a career in translating and interpreting, or teaching.
Stephanie Rice, a 2007 Graduate of Chopticon High School, accepted the 2007 Gordon Thorne and Joe Johnson Scholarship. Rice will attend Coastal Carolina University Fall, majoring in Marine Science and intends to help preserve the Chesapeake Bay.
Lauren Norris received the 2007 Bill and Brian Davis Scholarship. Norris is a 2007 graduate of Leonardtown High School and will pursue her dream this fall in the field of biology and chemistry with a concentration in genetics and the University of Maryland, College Park.
While the Mechanicsville Optimist Club celebrates its 25th anniversary this year, Optimist Clubs have been serving St. Mary's County for approximately 40 years. They are one of the County's largest service club organizations and are recognized internationally. To learn more about scholarship opportunities or becoming a member, contact Cindy Dixon (301) 472-4027 or visit the organization's website at www.optimist.org.