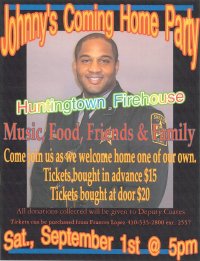 Friends and associates of Calvert County's Deputy Johnny Coates are planning a welcome home party for Sep. 1. Coates suffered serious injuries in a June 9 auto accident and will be unable to return to duty. Proceeds will help defer medical expenses.
PRINCE FREDERICK, Md. (Aug. 22, 2007) - Calvert County is preparing a celebration to welcome home one of their finest who was seriously injured in an auto accident in June. Deputy Johnny Coates was hurt when he lost control of a Calvert County Sheriff's Office marked patrol vehicle while driving on Route 4 in Dunkirk around 4:15 a.m. on Saturday, June 9, 2007.
Coates was operating the vehicle in an off-duty capacity when the vehicle struck the guardrail on the northbound side of Rt. 4. The vehicle then crossed the median at Brickhouse Road, struck a culvert, a tree, and then a brick pillar and came to rest overturned on the brick sign for Dunkirk Animal Hospital. Coates was transported via Maryland State Police (MSP) helicopter to Baltimore Shock Trauma where he was initially listed in critical but stable condition.
Deputies in Calvert County are permitted to drive their vehicles while off duty. The presence of marked police vehicle on the roadways, whether on-duty or off, is believed to deter crime.
After the accident, Coates spent several weeks in the hospital and in therapy. He left therapy on Tuesday, July 31. Doctors have reportedly told Coates that he will be permanently paralyzed below the chest. However, associates of Coates at the Sheriff's Office say that he has been back to the hospital on more than one occasion since leaving therapy because of pain in the paralyzed region.
Because of his injuries, Coates will be unable to return to duty in the capacity he once held as a patrol deputy. Associates say that Coates is optimistic about being able to return to work in an administrative capacity where his performance would not be impacted by his current disabilities. However, Sheriff's Office officials say that Coates would have to apply for any open position and compete against other candidates for the job.
Coates' colleagues at the Sherriff's Office are planning a Coming Home Party for Coates on Saturday, Sept. 1 at the Huntingtown Firehouse. According to Frances Lopes, an employee of the Sheriff's Office and one of the people responsible for organizing the event, all donations collected will be given to Coates. The money will be used to help defer medical expenses, outfit his home for wheelchair access, and outfit a vehicle for hand controls and handicap accessibility. "We're just looking out for one of our own," said Lopes.
Tickets are $15 in advance and $20 at the door. Tickets, or donations, can be arranged by contacting Frances Lopes at 410-535-2800 x2557.
Coates is currently 28 and has a 5-year-old son. At the time of the accident, Coates had been with the Calvert County Sheriff's Office for approximately two years—his first year as a correctional officer before moving on to become a patrol deputy.