Charles County Sheriff's Office Employee Receives Governor's Victim Assistance Award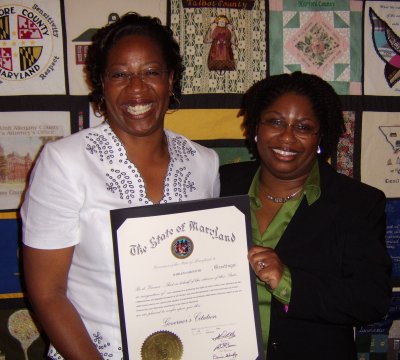 Darlena Griffith, left, and Ruth Anderson-Cole celebrate Griffith's Governor's Victim Assistance Award.
LA PLATA, Md. (Aug. 21, 2007) - Darlena Griffith, Victim Services Assistant for the Charles County Sheriff's Office, received the Governor's Victim Assistance Award on May 4 announced the Sheriff's Office today. The award is given annually to individuals or organizations dedicated to helping victims of crime in Maryland.
Griffith works closely with crime victims in Charles County to explain their rights during the criminal process. She also attends court as an advocate for victims who request her presence or are nervous about being alone in a courtroom setting. She is on-call every other month to respond to crime scenes and provide immediate comfort and assistance to victims. She conducts crisis intervention for groups and individuals who have been traumatized.
Griffith additionally provides administrative assistance to Ruth Anderson-Cole, the Sheriff's Office's Victim Service Coordinator. During her spare time, she volunteers to help kids make bracelets during the Sheriff's Office's Summer Youth Achievement Program and volunteers once a week in her kids' classrooms at school.
"Darlena is an ambitious, dedicated and conscious worker who is an asset to the Victim Services Section," said Anderson-Cole.
"Being a victim of a crime is a traumatic experience so it is important for us to have someone like Darlena who can help victims through the process while the officers investigate the crime and work with the State's Attorney to prosecute the offenders," said Sheriff Rex Coffey. "Darlena is an important part of the Sheriff's Office and our community and she is very deserving of this recognition."