By Jim Jenkins NAWCAD Public Affairs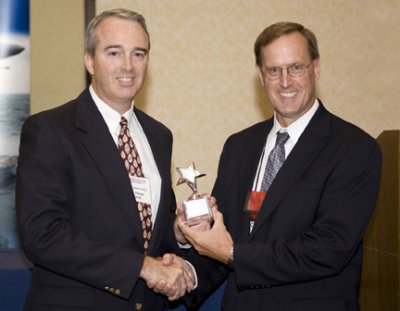 David Sutherland, Deputy Program Manager for Common Ground Support Equipment at the Naval Air Systems Command (NAVAIR), was named the 2006 Department of the Navy Small Business Program Manager of the Year.
PATUXENT RIVER, Md. - David Sutherland, Deputy Program Manager for Common Ground Support Equipment at the Naval Air Systems Command (NAVAIR), was named the 2006 Department of the Navy Small Business Program Manager of the Year.
Last year's winner was Bob Ernst, NAVAIR Aging Aircraft Integrated Product Team director.
Sutherland and the PMA-260C team, in 2006, awarded 14 new contracts to small businesses totaling $57.8 million and awarded eight contract actions against existing contracts with small businesses totaling $16 million. The team's dedicated efforts working with small business have resulted in a significant total ownership cost avoidance of $150 million for 2006.
"I don't think I have done anything extraordinary to merit this award," Sutherland said. "I am just doing, simply, things that a program manager is going to do. It takes a whole lot of folks to support our work with small businesses. To me this should be a team award and acknowledge everyone's effort and not just a program manager."
According to the award citation, Sutherland is a zealous advocate of using small business requiring all acquisition projects to be evaluated for small business set-asides. He also mandated the use of extensive market surveys to ensure the viability of using small business to meet fleet needs.
Sutherland brings a practical business sense to the table when procuring new ground support equipment for the fleet. PMA-260C strives to be good stewards with tax payer money, and his team looks for the best products for the fleet in the most affordable cost effective manner and in many cases small businesses offer the best choices.
"The real end game is providing good products for the fleet," Sutherland said. "And small businesses just happen to be one of the ways that we use to try to do that. There are some equipment commodities where small businesses are industry leaders – armament loading, hydraulics support equipment, and cryogenics support equipment to name only a few. So it really makes sense to want to go to small businesses because they are in the fore front to what industry has and they are world class organizations."
Sutherland's office is currently modernizing a lot of the common ground support equipment that's been in the fleet for 20 to 35 years. PMA-260C has had some real outstanding experiences working with some of the small businesses who truly focus on the end user wanting to provide the Sailor and Marine with the best products available.
"On behalf of the PMA260 Common Support Equipment Team, I'm very proud of Dave's remarkable accomplishments in small business contracting," said Capt. George Kilian, Aviation Support Equipment Program Manager. "Not only have his efforts yielded excellent cost savings for our office, they have also resulted in quality SE products for use by the warfighter while helping to encourage small business growth in support of DOD. Dave won this award due to his steadfast recognition of the value added by small business to PMA260's efforts. We achieved a total ownership cost avoidance of over $150M. This sets an example of the benefits that can be attained through enthusiastic pursuit of opportunities via small business. Dave has been a real pathfinder for the team. He richly deserves the recognition afforded by this award."
Sutherland's optimism and eagerness for using small businesses does not eclipse his need to be certain that the small business in question actually has the capability they claim. New businesses PMA-260C works with are subject to proper market research, onsite surveys and talking to other companies that have worked with them before.
"Small businesses are a vital part of our Nation's economy and help keep our country strong," said Emily Harman Associate Director, NAVAIR Office of Small Business Programs. "NAVAIR is committed to our country's small businesses having the maximum practicable opportunity to participate in NAVAIR acquisitions as prime and subcontractors. Dave's initiative and innovation in increasing the role of small businesses in PMA 260's acquisitions is commendable. The total ownership cost savings of over $150M in 2006 alone speaks for itself and his results stand as a model for all NAVAIR Program Managers. I encourage Program Managers to involve the NAVAIR Office of Small Business Programs early in the acquisition cycle. NAVAIR employees wanting to learn more about NAVAIR's Small Business Program should contact their local Small Business Deputy. In addition, opportunities for shadow assignments and rotations to the NAVAIR Office of Small Business Programs are available."
For more information on working with the NAVAIR Office of Small Business visit
http://www.navair.navy.mil/osbp.