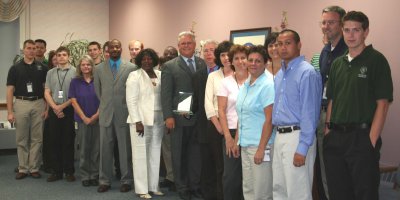 The Charles County Commissioners pose with members of the Charles County Department of Information Technology following Charles County's designation as one of the Nation's Most Digitally Advanced Counties.
LA PLATA, Md. - For the fifth year in a row, Charles County has been selected as "The Nation's Most Digitally Advanced County" for populations of less than 150,000. This year, Charles County was tied with Nevada County, California, for the honor. Charles County competed against 2,727 other counties across the nation.
To be eligible for the award, a county must be a member of the National Association of Counties (NACo). There are 3,066 county members of NACo, with 2,729 in Charles County's population category.
The Department also received an Achievement Award for their eScheduler program, which is a web-enabled scheduling tool that is utilized by various County Government agencies.
The awards are presented annually by the Center for Digital Government, a national research and advisory institute on information technology policies and best practices in state and local government. This year they were presented during the NACo conference held in Richmond, Virginia.