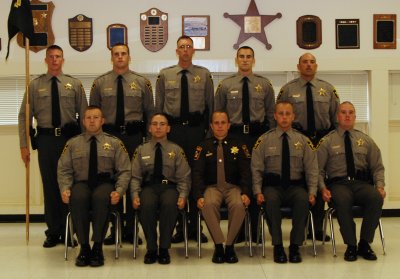 Pictured are Southern Maryland's newest police officers, who graduated Friday, July 20.
DONCASTER, Md. - The Southern Maryland Criminal Justice Academy celebrated the graduation of 10 police recruits at a ceremony held Friday, July 20.
Ten students completed the six-month training program, which began Jan. 27. Nine of the graduating officers joined the Calvert County Sheriff's Office and one joined the Charles County Sheriff's Office.
At the ceremony, Academy instructors presented awards to students who excelled in four categories. Jason Dean earned the emergency vehicle operations course award and Seth Mitchell earned the scholastic, physical training and firearms awards. Both are Calvert County officers.
The class boasted a 93.9% final academic average. Their class motto, chosen by the students at the beginning of the training program, was "Out of Many, We Are One Second to None."
Delegate Anthony O'Donnell served as keynote speaker for the ceremony. Mr. Nicholas Valltos, assistant professor of criminal justice for the College of Southern Maryland, spoke about the articulation agreement between the Academy and the College, which provides each graduate with 15 college credits toward a criminal justice degree. Additionally, the Academy's board of directors – Charles County Sheriff Rex W. Coffey, St. Mary's County Sheriff Timothy K. Cameron and the chairman of the board, Calvert County Sheriff Mike Evans – and the class speaker, Officer Nicholas DeFelice, each shared remarks.
The following new law enforcement officers graduated:
Charles County Sheriff's Office:
Mark A. Bourgeois
Calvert County Sheriff's Office:
Joseph E. Cullen
Daniel T. Deakins
Jason A. Dean
Nicholas D. DeFelice
Christopher A. McDonough
Seth M. Mitchell
James M. Morgan
Robert W. Traas
Andrew L. Woodford