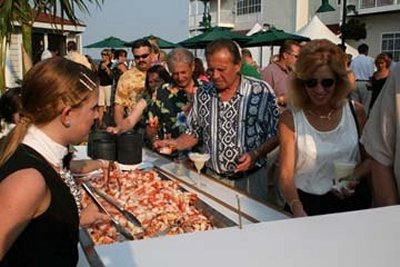 Guests at the 26th Annual Celebration of Life Cancer Gala in Chesapeake Beach line-up to enjoy the fresh seafood. The event raised over $450,000 in donations according to officials.
CHESAPEAKE BEACH, Md. — The 26th Annual Celebration of Life Cancer Gala was a brilliant success this year, say event officials. The gala, which took place on Thursday Aug. 2, raised over $450,000 in donations for the Calvert County Unit of the American Cancer Society—the Gala's largest collection to date. Honorary Chairpersons Jeannie & Phillip Stone said that they could not have been more elated with the response. The attendees enjoyed a memorable evening of waterside dining, festive drinks, live music and moonlit dancing at the Rod-N-Reel Restaurant.
All proceeds from the event contribute to research, education, and patient services in the fight against cancer.
Hotel owner and Chesapeake Beach Mayor, Gerald W. Donovan, said, "I am absolutely thrilled and delighted by the wonderful turnout." Of the 1,703 guests, he exclaimed, "A good time was had by all!"
Donovan expressed his gratitude to the guests and sponsors, "To all the folks who attended and all of the sponsors who participated, it was such a generous outpouring of compassion and action in face of a truly dreaded disease."
Various bands provided live entertainment, including oldies show band The Hubcaps. Dance areas were provided in the ballroom and outside on the waterfront. Food and ice and fruit sculptures delighted guests at every turn. Rod 'N' Reel Executive Chef William Bednar, along with Chef Walter Portillo and Chef Nicholas Alexander, prepared the elaborate spread. The gala menu included fresh seafood such as Maine lobsters, sushi, and Mediterranean fare, roasted pig, filet mignon, barbecue ribs, grilled chicken, steamship round and desserts galore.
Some of the programs to benefit from the night's donations include:
I Can Cope
, which provides education for people facing cancer—either personally, or as a friend or family caregiver.
Look Good/Feel Good
, offers woman undergoing cancer treatment help in improving their self-image.
Man to Man
, helps men and their families cope with prostate cancer by providing education, support, and awareness.
Reach to Recovery
, is a program where trained volunteers support and comfort patients before, during and after breast cancer treatment.
Road to Recovery
provides transportation to and from treatment facilities.
The American Cancer Society also uses contributions to offer programs to help educate communities about cancer risks, early detection methods and most importantly, prevention.
Even if you were unable to attend this year's gala, donations can still be made to the Calvert County Unit of the American Cancer Society.