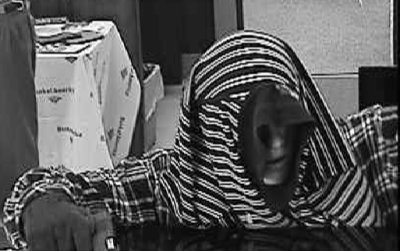 This man robbed the Bank of America in Mechanicsville at gunpoint on Friday, Aug. 17, 2007. A handgun is partially visible in his right hand.
LEONARDTOWN, Md. (Aug. 18, 2007) - The Bank of America in Mechanicsville was robbed yesterday at approximately 1:30 p.m. According to police, a white male, wearing a dark colored mask, 18 to 25 years of age, entered the bank, displayed a handgun and demanded money. He then fled with an undisclosed amount of money northbound in a green colored four door passenger vehicle at a high rate of speed, almost causing a collision on Route 5.
Bank surveillance cameras captured a close-up image of the robber (see photo at top).
The St. Mary's County Bureau of Criminal Investigations (BCI) is investigating the incident.
Police are asking anyone that has information on the robbery, or saw the vehicle leaving the scene, to call BCI at (301) 475-4200 extension 1959.
Because of the number of bank robberies in the area, many banks now display signs outside their buildings indicating that they prohibit customers to enter the premises wearing sunglasses and/or hats.