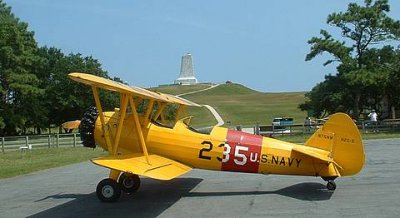 Nick Mirales of southern Maryland-based Biplane Air Tours plans to offer open cockpit rides in his Stearman aircraft. The plane is shown at Kitty Hawk, N.C. Photo courtesy of Nick Mirales.
By Danita Boonchaisri
PRINCE FREDERICK, Md. - Imagine roaming the Southern Maryland skies in an open cockpit, double-winged airplane, circa 1944, while taking in familiar sights like Solomons, the Patuxent River and the Chesapeake Bay from 1,500 feet up.
Nick Mirales, a Calvert-based businessman and aficionado of vintage aircraft has the means, mode and license to provide the thrill of a lifetime to those seeking just such an adventure.
Mirales, a seasoned pilot for more than 30 years carefully restored the Stearman aircraft he purchased in 1989 and now spends warm-weather weekends and evenings, spring through fall, carrying people through the clouds in the favored co-pilot's seat of his craft.
With a 95 mph cruising speed, the U.S. Navy and U.S. Army Air Corps used Boeing's Stearman aircraft as a trainer extensively during World War II; in fact, more than half of the military pilots from that generation received flight training in such a plane. Mirales recalls one particular rider who recently took a trip in his plane who had actually trained in an exact model of the Stearman during his days as a pilot in the 1940s. "He was nearly moved to tears," recalled Mirales.
Mirales spent the better part of seven years reconditioning and restoring the aircraft. Every component was disassembled and inspected and nearly every nut, bolt, bearing and bushing was replaced. The engine was overhauled, a new wood propeller was installed and all wood was replaced on the wings. "In many respects," Mirales says, "the plane is practically brand-new."
When asked who his customers are, Mirales says they come from all walks of life. "I've had young children, people who are just curious, veterans and even an 80-year-old grandmother who had never flown in a plane before. Most of them just want the thrill of trying something they've never done before."
Mirales offers air tours by appointment only and flies out of the Capt. Walter Francis Duke Regional Airport in California, Md., St. Mary's County. The plane accommodates only one rider at a time and, while there is no minimum or maximum age for riders, the low cockpit seat prevents very young children from seeing out of the aircraft.
For more information on Biplane Air Tours, visit online at
http://www.biplaneairtours.com/
.