By David Noss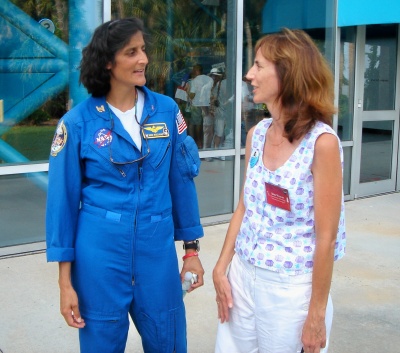 Kim Weaver, of the St. Mary's County Public School System (SMCPS), speaks with NASA astronaut Suni Williams who had just returned from a several month-long assignment on the International Space Station. (Photo courtesy Kim Weaver)
GREAT MILLS, Md. (Aug. 10, 2007) – A St. Mary's County teacher received a great honor this week when she attended the NASA Shuttle Endeavour launch as an official Very Important Person (VIP). Kim Weaver, of the St. Mary's County Public School System (SMCPS), had a front row seat to see Shuttle Mission STS-118 sent into space from Launch Pad 39-A on an 11 day flight from NASA's Kennedy Space Center in Florida.
Once at NASA, Weaver attended a two-day pre-launch conference on Sunday and Monday, Aug. 5, 6. Since the shuttle launch was delayed from Tuesday until Wednesday, Weaver was able to enjoy a personal day on Tuesday. On Wednesday, she and fellow VIPs were treated to a first class view of the launch. Weaver noted that the experience was "really exciting" and a "great experience."
Weaver was an instrumental part of a NASA Educator Astronaut Project (EAP) called the Plant Growth Chamber. In support of STS-118, NASA Education has put together a comprehensive education plan designed to engage high school students in the mission through an engineering design challenge in which students will design, build and assess their own plant growth chambers for future missions to the moon.
The education plan includes six lessons. One of the lessons, Moon Munchies Educator Guide, was developed in part by Weaver. According to Weaver, she was one of three teachers hired by the International Technology Education Association (ITEA) to work on the project.
The challenge ties directly to the two education payloads planned for STS-118: (EPO Kit C and EPO Educator).
EPO-Kit C is an education payload consisting of two small collapsible plant growth chambers and the associated hardware to conduct a 20-day plant germination investigation. During the investigation, crew members will maintain the plants and will capture still images of plant growth. All images will be incorporated into a comprehensive set of education activities planned in association with STS-118 and Expedition 15.
EPO-Educator is an education payload consisting of approximately 10 million basil seeds. The seeds will launch and return with STS-118. After the mission, the seeds will be distributed to students and educators as part of a comprehensive education plan for STS-118. On-orbit operations include capturing still images of the seeds in a microgravity environment. The still images will be incorporated into a set of education activities.
NASA officials say that they aim to strengthen NASA and the nation's future workforce by attracting and retaining students in science, technology, engineering and mathematics, or STEM, disciplines. The Educator Astronaut Project (EAP) is part of NASA's Elementary and Secondary Education Program. NASA believes that by increasing the number of students involved in NASA-related activities at the elementary and secondary education levels more students will be inspired and motivated to pursue higher levels of STEM courses.
Last year, Weaver taught second grade at the Benjamin Banneker Elementary School. This year she has moved to the new St. Mary's County Charter School where she will teach both first and second grades.
More details on the story, including photos, will follow in the coming days and next week in the
County Times
.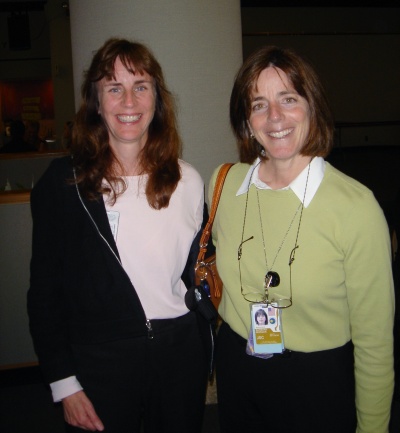 Kim Weaver (left), of the St. Mary's County Public School System (SMCPS), pictured with NASA astronaut Barbara Morgan in November 2006. Weaver met Morgan when NASA sent her to Houston to speak with scientists and engineers to learn more about their program in preparation for her work with the space program. (Photo courtesy Kim Weaver)
RELATED INFORMATION:
NASA Engineering Design Challenge: Lunar Plant Growth Chamber
http://www.nasa.gov/.../plantgrowth/home/
Moon Munchies Educator Guide, Developed in Part by Kim Weaver, SMCPS
http://www.nasa.gov/.../Moon_Munchies.html
International Technology Education Association (ITEA)
http://www.iteaconnect.org/