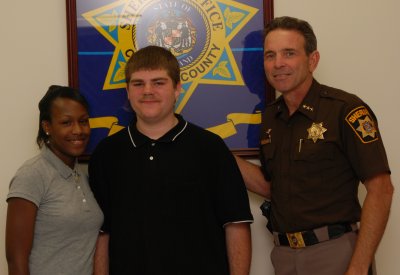 Charles County Sheriff Coffey congratulates Daniel Dudley and Wanda Woodland for being this year's Criminal Justice scholarship recipients.
LA PLATA, Md. - The Charles County Sheriff's Office and the Maryland Sheriffs' Institute awarded their 2007 criminal justice scholarships to Daniel Dudley and Wanda Woodland.
Dudley and Woodland are Marbury residents and recently graduated from Henry E. Lackey High School. They participated in the criminal justice program offered through a partnership between the Sheriff's Office and Charles County Public Schools and were members of the Charles County Sheriff's Office's Explorer's Post. As students and Explorers, they have volunteered to provide fingerprinting services, direct traffic and participate in community outreach activities.
This fall, Dudley, 17, will attend the College of Southern Maryland in La Plata and Woodland, 17, will attend the University of Maryland Eastern Shore.
The Maryland Sheriffs' Institute provides each sheriff in Maryland with funds for the scholarship program. Each sheriff then establishes the criteria and processes for application and selection of the winners. Preference is given to sons and daughters of law enforcement personnel, students choosing criminal justice or a related college major and students who are enrolled in the criminal justice program at school.
"I am grateful for the opportunity to provide Wanda and Daniel with these scholarships and I wish them success in their studies," said Sheriff Rex W. Coffey. "They have already demonstrated a lot of skill in the area of criminal justice and I know they have bright futures ahead of them."