By 2nd Lt. Don Van Wormer, St. Mary's Composite Squadron PAO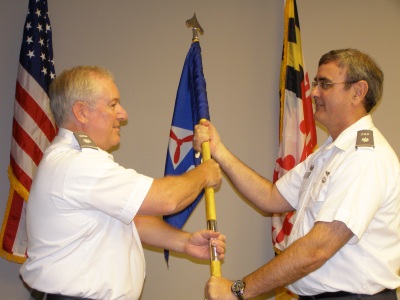 Lt. Col. LaPre passes the St. Mary's Composite Squadron, Maryland Wing of the U.S. Civil Air Patrol (CAP) squadron flag to Lt. Col. Corrigan representing the transfer of command.
ST. MARY'S COUNTY, Md. - Lt. Col. Tim Corrigan relieved Capt. Allen Douglas as commander of the St. Mary's Composite Squadron in the Maryland Wing of the U.S. Civil Air Patrol (CAP) at a change of command ceremony conducted by Lt. Col. Wes LaPre, commander of Group III of the Maryland Wing.
Corrigan has served in CAP since 1997 when he joined a squadron in Little Rock, Arkansas. He served with a CAP squadron in Lacrosse, Wisconsin in 2001, and the Charlottesville, Virginia Monticello Composite Squadron in 2004 before joining the St. Mary's Composite Squadron in 2006, where he served as the Emergency Services (ES) officer.
Lt. Col. Corrigan is a qualified mission observer and holds a master rating in the CAP Legal specialty field. Corrigan lives in La Plata, Md., and is employed by the Naval Surface Warfare Center (NSWC) Indian Head, Md.
Douglas turned over command of the squadron after completing a one year tour of duty. Under his leadership, the cadet and senior membership has continued to increase and the squadron flew over 200 mishap-free flight hours. In recognition of the squadrons' accomplishments during his tenure, he was promoted from 1st Lt. to Captain and presented the 2006 Maryland Wing Squadron of the Year award by Lt. Col. LaPre. Capt. Douglas is relocating from St. Mary's county to northwest Maryland where he plans to continue his service to CAP.
U.S. Civil Air Patrol, the official auxiliary of the U.S. Air Force, is a nonprofit organization with more than 60,000 members nationwide. CAP volunteers perform 95 percent of continental U.S. inland search and rescue missions as tasked by the Air Force Rescue Coordination Center and also perform homeland security, disaster relief and counter-drug missions at the request of federal, state and local agencies.
Members take a leading role in aerospace education and serve as mentors to the almost 25,000 young people currently participating in the CAP Cadet Program. CAP's cadet programs provide young men and women with a safe and motivating environment in which to grow and explore opportunities in the military and aviation industries. Cadets progress through a 16-step program of leadership and aerospace education. CAP has been performing missions for America for more than 63 years.
There are approximately 1,300 members of CAP in Maryland. Last fiscal year wing members flew 34 search and rescue missions and were credited with 23 finds. For information about the Maryland Wing of CAP, visit
http://mdcap.org/
.
The St. Mary's Composite Squadron meets Wednesday evenings from 7-9 p.m. at the St. Mary's County Regional Airport, in the Capt. Walter Francis Duke terminal building, 44200 Airport Road, in California, Md. The squadron is commanded by Lt. Col. Tim Corrigan. For information, visit the squadron's web site at
http://www.capstmarys.com/.