By Kelly Burdick, NAVAIR Public Affairs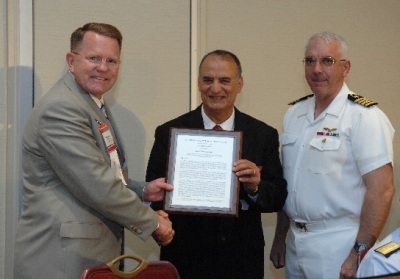 Dr. El Sayed Arafat received the 2006 American Society of Naval Engineers (ASNE) Solberg Award at the annual ASNE meeting on June 26 in Arlington, Va. From Left to Right: CAPT Rick Hepburn, USN (Ret.), SAIC and ASNE President; Dr. El Sayed Arafat; and CAPT Dennis R. Sorensen, USN, Office of Naval Research. Photo courtesy of ASNE.
PATUXENT RIVER, Md. - Dr. El Sayed Arafat received the 2006 American Society of Naval Engineers (ASNE) Solberg Award at the annual ASNE meeting on June 26 in Arlington, Va.
Honoring Admiral Thorwald A. Solberg, a former Chief of Naval Research who inspired the research and development engineering profession, this award recognizes an individual who has made a significant contribution to naval engineering through personal research over the past three years.
Dr. Kevin Kovaleski, a chemist and branch head for NAVAIR's Materials Protection branches, nominated his colleague. "Dr. Arafat is truly deserving of this award. His dedication, strong work ethic, and knowledge of operational chemicals have all come together to form productive and fruitful research programs," said Kovaleski.
Arafat was selected for his substantial contributions in developing cleaners that have shown to remove, inhibit and prevent corrosion, mold and mildew in various aircraft applications: Navguard; Mildew-Inhibiting Navguard; NAVCLEAN; and a Corrosion Inhibiting Mildew Remover Kit.
Corrosion is a major problem in the harsh naval aviation environment, where humidity, salt and heat conspire to dramatically reduce the performance of aluminum components and often occurs in internal structures which are not easily inspected or treated. "The outcomes of his efforts will be significant contributions in the fight against corrosion," said Kovaleski. "The application of these new products will increase the fleet readiness and will provide a significant cost savings to naval aviation."
Captain Vincent Lamolinara, military director for NAVAIR's Air Vehicles Engineering Department, attended the ceremony with Arafat. "Dr. Arafat's efforts represent the exemplary personal commitment and close connection to the Fleet that is the true motivation of NAVAIR engineers," said Lamolinara. "Through a lifetime of scholarship, cutting-edge research and plain hard work, this recognition is the result of the realization of improved naval aviation capability and readiness through the application of technology. As part of AIR 4.3.4 Air Vehicles Materials Division, his work in corrosion prevention has had an immediate and dramatic impact on the reduction of corrosion on naval aircraft."
Arafat joined the Naval Air Systems Command in 2000 as a chemist in the Naval Air Warfare Center Aircraft Division's Industrial and Operational Chemicals Laboratory. With over twenty years of research experience in physical, organic, and analytical chemistry, he brings a broad background in research areas such as composite materials, solvents, cleaners, and corrosion preventive compounds to the NAVAIR team.
Arafat's four inventions have been submitted to the U.S. Patent Office. These new products will also increase fleet readiness by providing a healthier environment for aircrews and decreasing down-time and costs due to fewer inspections and maintenance actions.
Arafat received his master's degree in physical chemistry from Cairo University in Cairo, Egypt in 1975 and his Ph.D. degree from the University of Mississippi in Oxford, Miss. in 1982. His Ph.D. work focused on thermodynamic properties of organic ionic crystals. Arafat spent seventeen years at Rust College in Holly Springs, Miss. as a professor, researcher, and administrator. He has twenty-four publications in professional journals and has presented his work at national and international conferences and symposia.