Holds Cabinet Meeting with Local Officials, Meets with Community Leaders and Firefighters; Visits Local Farm for Lunch and to Support "Buy Local" Challenge; Tours Southern Maryland Electric Co-Op; Announces Intent to Seek Federal Drought Relief for Local Farmers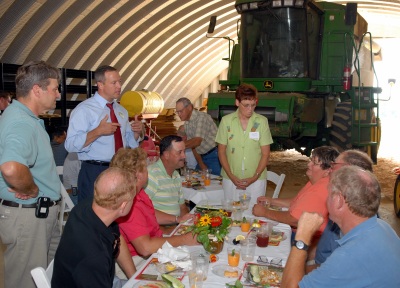 Governor Martin O'Malley O'Malley stopped for lunch with a group of local farmers at the H. H. Walter Farm in Hughesville to celebrate the "Buy Local Challenge" during his day spent in southern Maryland. Photo by Jay Baker.
Annapolis (July 26, 2007) – Today, Governor Martin O'Malley spent the day in Charles County with his Executive Cabinet and declared La Plata Maryland's "Capital for a Day. The Governor and his Cabinet began the day hearing from local elected officials and community leaders about the challenges and opportunities facing Southern Maryland.
Throughout the day, O'Malley met with local firefighters and community leaders, had lunch with local farmers, attended the groundbreaking of the Southern Maryland Stadium and Entertainment Complex, and toured the Southern Maryland Electric Co-Op.
"I am proud to officially proclaim La Plata as Maryland's 'Capital for a Day,'" said Governor O'Malley. "Southern Maryland is the fastest-growing region of our State and plays a vital role in our State's history, agriculture, and tourism. I am grateful to all the local officials and community leaders for taking the time to meet with me today to discuss the challenges and opportunities we all share to move Maryland forward."
"La Plata is pleased to host Governor O'Malley and his Administration during the 'Capital for a Day,'" said La Plata Mayor Gene Ambrogio. "La Plata has enjoyed a good working relationship with the State, and we are pleased that the Governor is working hard to maintain and build the connection between local and State government for the benefit of our community."
O'Malley began the day with a Cabinet meeting at the La Plata Town Hall. Surrounded by the leaders of Maryland's Executive Department, the Governor spoke with local officials about the ways the State can work with Southern Maryland to improve the quality of life for Marylanders in Southern Maryland.
During the cabinet meeting, O'Malley and the cabinet heard from Charles County Commission President Wayne Cooper, Calvert County Commission President Wilson Parran, and St. Mary's County Commissioner Tom Mattingly about the specific challenges facing their counties.
During a press conference following the cabinet meeting, Governor O'Malley announced that Maryland is seeking federal disaster designation for Maryland counties impacted by the drought conditions and excessive heat this summer. According to the USDA, nearly 85 percent of the state is in "moderate" to "severe" drought, up from 37 percent a week ago. This is the third drought in Maryland since 2002, with Charles, St. Mary's and Calvert Counties among the most severely impacted.
Governor O'Malley made the request in a letter this morning to the United States Department of Agriculture and will provide relief to for farmers affected by the drought conditions.
"Working with the State Farm Service Agency, we estimate that farmers in Maryland have lost between 30 and 60 percent of their crop," said Governor O'Malley. "By requesting this disaster designation, we hope to provide some relief to our local farmers, who are a vital part of Maryland's economy, and we will continue to work with the Maryland Department of Agriculture and our federal delegation to help our farmers get through this drought."
Coincidentally, Senator Barbara A. Mikulski (D-Md.), chair of the Maryland congressional delegation, was joined today by a bipartisan coalition of her Maryland colleagues in sending a letter to U.S. Department of Agriculture (USDA) Secretary Mike Johanns, urging him to honor Governor Martin O'Malley's request to receive a Secretarial Disaster Designation. This designation will release federal assistance for many Maryland farmers, who will then become eligible for additional disaster relief funds.
Co-signing the letter with Senator Mikulski were colleagues Senator Benjamin L. Cardin (D), House Majority Leader Steny H. Hoyer (D), Representatives Wayne T. Gilchrest (R), Albert Wynn (D), Roscoe Bartlett (R), Elijah Cummings (D), Dutch Ruppersburger (D), Chris Van Hollen (D) and John Sarbanes (D).
Later, O'Malley went to the La Plata Volunteer Fire Station and Hall to meet local firefighters, elected officials, and community leaders at an informal reception. O'Malley commended the firefighters for their hard work as first responders to storms that have buffeted La Plata over the years.
O'Malley stopped for lunch with a group of local farmers at the H. H. Walter Farm in Hughesville to celebrate the "Buy Local Challenge." By purchasing food from local farmers, the "Buy Local Challenge" supports Maryland farmers, reduces pollution caused by shipping foods, and improves health as people eat fresh, local products. O'Malley also issued a formal proclamation supporting the "Buy Local Challenge" effort.
That afternoon, O'Malley attended the groundbreaking of the Southern Maryland Stadium and Entertainment Complex, along with local elected officials from Charles, Calvert, and St. Mary's Counties.
O'Malley finished his day by touring the Southern Maryland Electric Co-Op (SMECO), where he met with SMECO President Joe Slater, Chairman of the Board Daniel W. Dyer, and members of the Co-Op. The visit to SMECO comes one day after the Governor's Energy Summit, where he brought leading minds in Maryland's energy market together to discuss Maryland's work toward keeping energy affordable for the future.