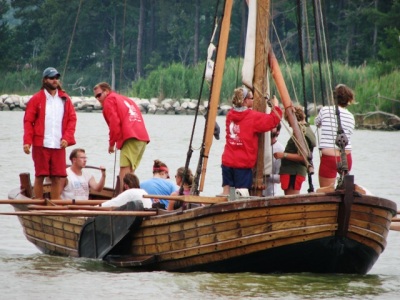 A replica of Captain John Smith's shallop makes a recent stop in Cobb Island, Md. Photo courtesy of Margaret Seamon.
COBB ISLAND, Md. - Charles County residents Margaret Seamon and Kara Wood were enjoying a lazy July afternoon recently when they spotted what looked like an old fashioned sailboat at the west end of Cobb Island.
As it turned out, the boat and its crew were sailing the waters to retrace the historic exploration of the Chesapeake Bay by the legendary Captain John Smith. The wooden vessel was an exact replica of the one that Jamestown founder Captain John Smith navigated back in 1608.
The history making crew had participated in the Smithsonian Folklife Festival on the Capital Mall in Washington, D.C., and they camped out overnight in Margaret Seamon's backyard before continuing on the 121-day voyage that began in Jamestown, Virginia, on May 12.