Spectators May Find Themselves on Italian TV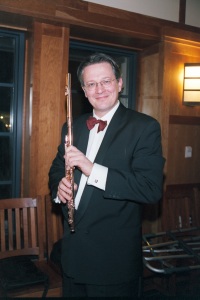 Giuseppe Nova from Alba, Italy.
ST. MARY'S CITY, Md. - On Friday, July 6, music director Jeffrey Silberschlag and the Chesapeake Orchestra pay tribute to the great jazz flutiest Herbie Mann in concert at St. Mary's College of Maryland. In an evening featuring both jazz and classical music, the orchestra will perform the world premier of "Chesapeake Festival Overture," composed by Louis Karchin. The evening of international artists in a Spoleto-like festival includes flutists Giuseppe Nova from Alba, Italy, and Kazutaka Shimizu from Japan. The concert will be performed for Italian television. Orchestral selections include Dvorák's Symphony No. 8 and Kodály's "Dances of Galenta".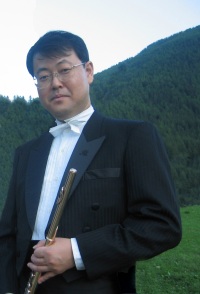 Kazutaka Shimizu from Japan.
Giuseppe Nova returns to the RCS stage as a favorite performer and teacher. Together with Jeff Silberschlag and Larry Vote, he created the Italy & USA Alba Music Festival held annually in northern Italy. Nova alternates between gold and wooden flutes made expressly for him by Yamaha. He has recorded extensively, and in 2006 started the collaboration with well-known Japanese label Camerata Tokyo. His latest CD is of Mozart's early Sonatas, recorded with claviorganist Claudio Brizi.
Nova graduated from the Conservatory in Turin and Conservatoire Supérieur de Lyon where he studied with Maxence Larrieu. Described as one of the most outstanding Italian flutists of his generation, Nova made his debut in 1982 as a soloist with the RAI Symphony. He has performed in Europe, the United States, Japan, and China. The Japanese magazine, The Flute, devoted its special interview to him, and the Italian magazine FaLaUt has also devoted an issue with in-terview and CD. Recently in the book Il Flauto Traverso (Italia, EDT 2003), he was included among the Italian "soloists with an international career... outclassed at the end of the century..."
Kazutaka Shimizu has performed with NHK Symphony Orchestra, the Tokyo Philharmonic, the Tokyo Ensemble, and the Singapore National Symphony Orchestra. Shimizu was a finalist of the Haydn Contest and the winner of the Grand Prix Gaston Crunelle (the Leopold Bellan Contest). Presently Kazutaka Shimizu is an assistant professor at Tokyo Gakugei University.
The free outdoor concerts overlook the St. Mary's River and begin at 7 p.m. Grounds open at 5 p.m. Come early and visit the many community vendors selling food, drinks, jewelry and more. Picnic baskets are welcome. Concert-goers are reminded that the College has designated smoking and non-smoking areas and that pets are not allowed on campus.
Also this week as part of the River Concert Series (RCS) Summer Events:
RCS Up Close Sundays
Up Close Sundays provide intimate musical performances of featured River Concert Series artists.
July 8: Flutists Giuseppe Nova and Kazutaka Shimizu will perform at 3 p.m. at Trinity Church in St. Mary's City, Maryland.
RCS On Location
River Series On Location brings world-class music into the community.
Wednesday, July 11: River Concert Series Brass Quintet performs at 12 p.m. on the Square in Leonardtown, Maryland.
Wednesdays - RCS Movies in Cole Cinema
The RCS hosts, free of charge, movies and music on Wednesday nights. Films are introduced by Robin Bates, SMCM professor of English. Each film is chosen to compliment the music or theme of the Friday night concert.
July 11: "Train Main: Densha Otako," a Japanese romantic comedy will screen in St. Mary's Hall at 7 p.m. The film is followed by a special performance by duo Mare - Japanese guitarist Akiko Sumi and South Korean flutist Rachel Choe on the Upper Deck in the Campus Center.