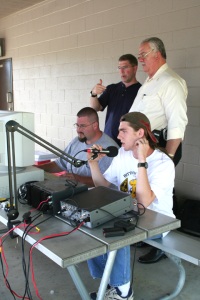 Rob Hoyt of the Charles County Amateur Radio Club (CCARC) shows Commissioner Graves the PSK31 Digital Communications System.
LA PLATA, Md. - Member of the Charles County Amateur Radio Club (CCARC) gathered on Saturday, June 23, 2007, for a field day and a 24-hour non-stop broadcast from Laurel Springs Park in La Plata.
Bob Curtin, a member of CCARC and an employee of the Charles County Department of Public Facilities said the event was designed to make contact with other amateur radio enthusiasts across North America and Canada. "This type of encampment helps us hone our skills for emergencies and other general assistance needs," said Curtin.
The event, the group talked to people from around the nation and as far away as Australia.
Saturday's broadcast brought back memories for Charles County Commissioner Samuel N. Graves, Jr., who stopped by to see some of the state-of-the-art equipment. Graves said he remembers his days back in Sacramento, California, where he worked at a civilian army base. "I was originally sent there to repair generators, but we dabbled in the retooling of radios and other items fro the troopers in Vietnam. It was a great experience because we could make contact and talk to the guys in Southeast Asia," said Graves.
Amateur radio enthusiasts, sometimes called hams, are a network of highly trained people who assist in emergency situations through the open airwaves. Like an old fashioned bucket-brigade, the hams pass along information to one another warning of severe weather conditions, hazardous spills, railroad disasters, and much more.
The 24 hour broadcast included the Boy Scouts from Troop 1780 in Waldorf. "This is one step in the preparation of a Communications' badge," said Scoutmaster Bob Davidson. "Although they can't legally go on the air, it's fascinating just listening to the broadcasts from around the world."