Active U.S. Army Soldier from Waldorf Arrested and Charged with Several Crimes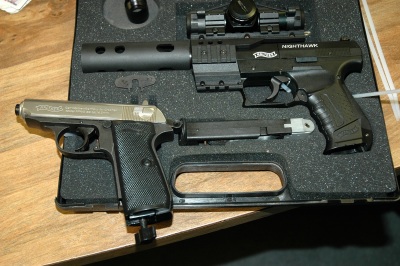 The weapons pictured above were seized by police from two teenagers who allegedly used them to destroy property and threaten at least one victim in the Lexington Park area. Both guns are high-powered pellet/BB guns which resemble actual firearms.
LEXINGTON PARK, Md. (June 12, 2007) - The St. Mary's County Sheriff's Office has arrested two Waldorf teenagers after they went on a rampage with two Walther high-powered pellet/BB guns in the Lexington Park area early this morning. Property was damaged and one victim says he had a gun pointed at him. Both men were reportedly intoxicated at the time of arrest.
During the early morning hours of June 12, 2007, Sheriff's Office Deputies responded to a report of property destruction in the Lexington Park area. Once on the scene, Deputies discovered that the windows had been shot out of a vehicle. There was also damage to the body of the vehicle.
Shortly thereafter, a call was received through 911 indicating that a black male in a vehicle had pointed a gun at a victim at a Great Mills business. Witnesses told police that the vehicle fled the area southbound on Point Lookout Road. The description of the vehicle matched the description given in the previous incident.
Police discovered the suspect vehicle as it entered a private driveway. A vehicle stop was conducted and two suspects were detained. Police say one weapon was located in plain view and the other weapon was discovered as the arrest was conducted. The weapons were high-powered pellet/BB guns made to resemble an actual handgun.
Asunta Kentrail Washington, 19, of Waldorf, Md., was the operator of the vehicle. Washington was also identified as the person who pointed the weapon at the victim in Great Mills.
Washington is in the United States Army and is in the process for a transfer from Fort Gordon, Georgia to Fort Campbell, Kentucky. He was charged with various crimes to include First Degree Assault and Driving While Intoxicated.
A second suspect is a 15 year-old juvenile male from Waldorf. He was found to be intoxicated upon his arrest. He was processed and released to a guardian pending a hearing in the Juvenile Court.
Additional property destruction crimes are being reported to police at this time. Police are requesting that any other victims come forward by contacting the Sheriff's office at 301-475-8008.