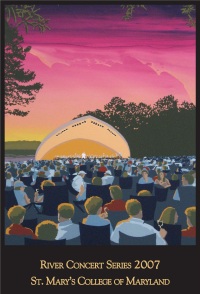 ST. MARY'S CITY, Md. - Music director Jeffrey Silberschlag and the Chesapeake Orchestra will open the 9th season of the River Concert Series (RCS) on June 15 with an international flair. The concerts and films continue throughout the festival with main-stage events every Friday evening through July 27.
This season a jazz concert with multiple Grammy Award winner Terence Blanchard has been added on Saturday, June 30. A singles "meet and greet" event has been added this night to the concert schedule. Details are on the River Concert Series Web site at www.riverconcertseries.com or call 240-895-2024.
The free outdoor concerts overlook the St. Mary's River and begin at 7 p.m. Grounds open at 5 p.m.
The Washington Post calls the River Concert Series, "a Southern Maryland answer to Wolf Trap." Come early and visit the many community vendors selling food, drinks, jewelry and more. Picnic baskets are welcome. Concert-goers are reminded that the College has designated smoking and non-smoking areas and that pets are not allowed on campus.
The Festival includes the main stage concerts and other performances for the community. Listed below are the concerts, chamber music performances, films, and special appearances by the Chesapeake Orchestra and college musicians in the community.
Main Stage River Concerts on Townhouse Green at 7 p.m.
Friday, June 15: Noches in Santa Maria.
Spanish favorites, including Ravel's Bolero. Guest guitar soloist Orlando Roman.
Friday, June 22: The Captain of the Sea
Guest conductor Larry Vote with Gilbert and Sullivan operetta selections. Guests include Rosa Lamoreaux, soprano, Steve Cramer, tenor, and Robert Tutor, baritone.
Friday, June 29: West of the Patuxent
A classic salute to the Old West kicks off our 4th of July week with fireworks, Copland's "Billy the Kid," and special guest Wyle Laboratories soloist Suzy Bogguss.
Saturday, June 30: Jazz at River Series
A smooth and seductive special Saturday concert featuring jazz star Terence Blanchard. People Magazine said, "Blanchard's virtues spring from his sense of restraint. The joy is in the tease." Bring a date or meet other singles. Families also welcome
Friday, July 6: The Ladies MANN
Dvorák and Kodály round out a beautiful evening of music that features international flute stars Giuseppe Nova and Kazutaka Shimizu in a new musical tribute to jazz flutist Herbie Mann
Friday, July 13: Midsummer Night's Dream
Internationally renowned violinist José Cueto is featured in a rare performance of "I Profeti." The program also includes the Overture to Mendelssohn's Midsummer Night's Dream and the colorful orchestral showpiece "Petrouchka"
Friday, July 20: Heavy Metal
Scottish tuba virtuoso James Gourlay will dazzle you with this unlikely solo instrument. The program also features Tchaikovsky's Symphony No. 4
Friday, July 27: Swashbuckling under the Stars
Debussy's "The Sea" and piano star Jeffrey Chappell entertain. Enjoy the musical tribute to the great old pirate films, and our season ending finale!
RCS Up Close Sundays
Up Close Sundays include intimate classical performances in different locations in Mary-land.
June 24: Gwen Degentesh, soprano and Michael Adams, trumpet, will perform at 4 p.m. at St. Luke's Episcopal Church in Bladensburg, Maryland.
July 1: Trombone recital at 7 p.m. at St. Mary's Hall at St. Mary's College of Maryland.
July 8: Giuseppe Nova and Kazutaka Shimizu will host a flute performance at 3 p.m. at Trinity Church in St. Mary's City, Maryland.
RCS On Location
The River Series On Location brings classical music into the community.
Sunday, July 1: Chesapeake Orchestra Brass Quintet performs, "Old Fashioned Fourth of July" at 1 p.m. at Sotterley Plantation in Hollywood, Maryland.
Wednesday, July 4: River Concert Series Brass Band performs at 6 p.m. at the Navy Recreation Center in Solomons.
Wednesday, July 11: River Concert Series Brass Ensemble performs at 12 p.m. on the Square in Leonardtown, Maryland.
Wednesday, July 18: Francis Bridge Jazz Quartet performs at 12 p.m. on the Square in Leonardtown.
Saturdays - RCS Cutting Edge
Fine food and fabulous music come to the shores of Solomons Island on "Cutting Edge" Saturdays.
July 14: Rick Humphreys, a jazz trio, performs at 7 p.m. at Vincenzo's Mediterranean Grill.
July 24: Don Stapleson, saxophonist, performs at 7 p.m. at Vincenzo's Mediterranean Grill.
Wednesdays - RCS Movies in Cole Cinema
The RCS hosts, free of charge, movies and music on Wednesday nights. Films are introduced by Robin Bates, SMCM professor of English. Each film is chosen to accompany the music or theme of the Friday night concert.
June 20: "Little Voice," a British romantic comedy about a woman who longs to follow in the footsteps of famed classic singers. Film is at 7 p.m. in Cole Cinema. Gretchen Riche Jazz Cabaret with jazz drummer Jim Daulton entertain after the film on the Upper Deck of the Campus Center at 9 p.m.
June 27: "Silverado," a spin-off of the 1950's western era, shows on the big screen in Cole Cinema at 7 p.m., followed by a performance by the River Concert Series Brass Quintet on the Upper Deck at 9 p.m.
July 11: "Train Main: Densha Otako," a Japanese romantic comedy will screen in St. Mary's Hall at 7 p.m. The film is followed by a special performance by duo Mare - Japanese guitarist Akiko Sumi and South Korean flutist Rachel Choe on the Upper Deck in the Cam-pus Center.
July 18: "32 Short Films about Glenn Gould." This independent film is about a retired pianist. This evening's film will be shown at 7 p.m. in St. Mary's Hall and will be followed by a performance by pianist Brian Ganz also in St. Mary's Hall.
July 25: "Adventures of Robin Hood," a 1938 throwback to old Hollywood swashbucklers, will screen in Cole Cinema at 7 p.m. and followed by a discussion from musicologist Deborah Lawrence.