Special Olympics Sailors Return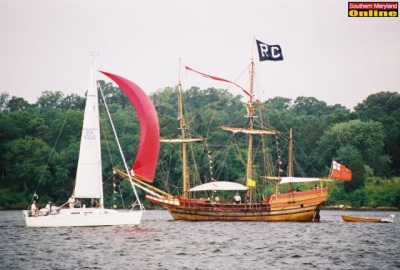 The white sail boat approaches the finish line for the 2003 Governor's Cup Race that terminates in St. Mary's City. The finish line is marked by the yellow flag aboard the Maryland Dove which is anchored just off of Priest's Point. Photo by David Noss.
ST. MARY'S CITY, Md. - The St. Mary's College of Maryland (SMCM) Governor's Cup Yacht Race is coming to the Chesapeake Bay Aug. 3-4. The Governor's Cup Yacht Race is the oldest and longest overnight race on the Chesapeake Bay. The race begins Friday, Aug. 3, at the entrance of the Annapolis Harbor and finishes Saturday, Aug. 4, on the shores of St. Mary's College of Maryland (SMCM) with a post-race party. This year marks the 34rd running of the race from Maryland's current capital city to its first capital in St. Mary's City.
The schooner Sultana will serve as the start boat in Annapolis, with the Maryland Dove, a replica of a 17th-century square-rigger from Historic St. Mary's City, as the finish boat at St. Mary's College of Maryland.
The College expects more than 200 boats to participate this year is actively recruiting the involvement of cruising class competitors. There are eight classes for scoring. Again this year, Special Olympics Maryland is partnering with the college.
The eight classes are: Multihull, PHRF A-0, PHRF A-1, PHRF A-2, PHRF B, PHRF C/D, and PHRF N. Boats can also compete for the Patuxent Partnership trophy, The St. Mary's Alumni class trophy and the new Maryland Special Olympics Class Award.
Registration for the race is now open. To request a form, call 240-895-3039, e-mail govcup@smcm.edu, fax 240-895-4484 or visit the Web site
http://www.smcm.edu/govcup
. The registration fee is $75 per boat. Housing at the College and a bus ride back to Annapolis is also available.
St. Mary's College of Maryland's elite sailing team has won 12 national championships and produced more than 100 collegiate All-American sailors since 1991.The college is ranked one of the best liberal arts colleges in the nation by U.S. News & World Report and The Princeton Review. With roots going back to 1840, SMCM is the state's only public honors college, offering the academic excellence of a top private college with the openness and affordability of public education.
Special Olympics Maryland is a year-round sports organization dedicated to providing quality sports training and competition opportunities to Maryland's children and adults with intellectual disabilities and/or closely related development disabilities. Special Olympics Maryland currently serves 10,000 athletes statewide, and offers 28 sports, all at no cost to the athletes or their families. For more information about Special Olympics Maryland, visit www.somd.org or call 410-789-6677.
RELATED INFORMATION:
Photos from Previous Races
http://photos.somd.com/showgallery.php/cat/49