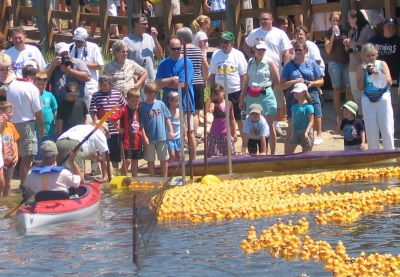 SOLOMONS, Md. - What do you get when you mix a flock of rubber ducks, tubs of ice cream, a moon bounce and singing pirates? The Asbury~Solomons Rubber Duck Regatta!
On Saturday, June 23, thousands of rubber ducks will race in the Patuxent River along the Asbury~Solomons Island shoreline. Participants who have "adopted" ducks will enjoy competing to win valuable prizes! Guests will be entertained by Ship's Company Chanteymen featuring William Pint and Felicia Dale beginning at 1 p.m., followed by the "official" plunge at 2:02 p.m.
Ducks are available for adoption for $5 each, or $25 for a "Quack Pack" of 6 ducks. Prizes include a one-week Caribbean cruise where the winning "adoptive parents" can splash about in warm tropical waters. Other great prizes to be awarded include Jewelry from Maerten's Fine Jewelry and Gifts in Solomons a shopping spree at Sneade's Ace Home Center in Lusby or Owings and several others.
Proceeds from the race will benefit the Asbury~Solomons Benevolent Care Fund and the Rotary Club of Prince Frederick. Rotarians participate in many community activities such as providing college scholarships for local students. Mercantile Southern Maryland Bank, The Show Place Arena and L&M Produce have joined dozens of other sponsors to assist with funding for the event, donating prizes and adopting their own "little quackers."
You can adopt a duck at
http://www.duckrace.com/solomons/
, by calling the Duck Race Hotline at 410-394-2697 or by contacting any Prince Frederick Rotarian! Bring your quacky friends to cheer on the daffiest ducks in Southern Maryland and watch the whacky race that is sure to have even Donald, Huey, Dewey and Louie quacking up!