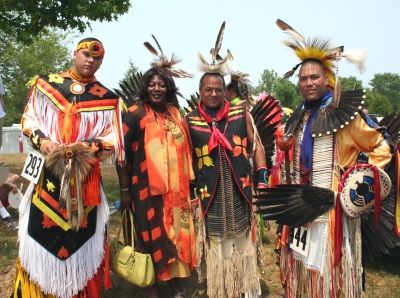 Commissioner Edith J. Patterson with American Indian participants at the Festival and Pow-Wow. Photo by George Clarkson, Press Secretary, Charles County Commissioners' Office.
WALDORF, Md. - Hundreds of American Indians from many Nations around the country gathered on Saturday, June 2, 2007 as the Piscataway Indians of Maryland hosted the 25th Annual Piscataway Indian Festival and Pow-Wow.
Held at the American Indian Cultural Center in Waldorf, the celebration featured a spectacular opening ceremony that included a colorful and spirit-filled processional of all American Indians in attendance.
The festival included music, ceremonial dancing, food, arts and crafts and cultural information about the history of Piscataway nation.
The Piscataway people have lived in what is now Maryland for over 10,000 years. These indigenous people were major contributors in agriculture, housing, fishing and hunting, which was extremely valuable to the early Europeans who came to this region.
The great Piscataway leader Turkey Tayac organized the Festival and Pow-Wow as a means to remind American Indians of their culture, and to enlighten those not familiar with Indian ways.
In presenting the Proclamation to the Piscataways, Charles County Commissioner Edith J. Patterson said, "The very dust we stir when we walk today, responds to our footsteps, because this land is rich with the blood of your ancestors...and our feet are conscious as they make contact with the forefathers."
For more information on the Piscataway Indians, contact Ms. Natalie Proctor at 301-782-2224.