Judges said, Clifton's poems like "short, distinct music"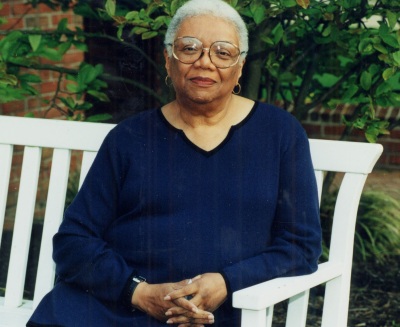 Lucille Clifton is the winner of the 2007 Ruth Lilly Poetry Prize which includes a $100,00 stipend. Clifton holds the Hilda Combs Landers Endowed Chair in the Liberal Arts at SMCM. Photo courtesy of SMCM.
ST. MARY'S CITY, Md. - Lucille Clifton, poet and distinguished professor of humanities at St. Mary's College of Maryland (SMCM) has been awarded the 2007 Ruth Lilly Poetry Prize. The prize includes a $100,000 stipend, which will be given at a ceremony May 23 in Chicago. The Lilly Prize is given by the Poetry Foundation, publishers of Poetry Magazine. Clifton is the first African American woman to win this award since it was first given in 1986.
Clifton holds the Hilda Combs Landers Endowed Chair in the Liberal Arts at St. Mary's and served as Poet Laureate of the State of Maryland from 1975 to 1985. Her poems portray the complexities and struggles as well as the celebrations and courage of her life. Her poems are about the life of all human beings and bring clarity and illumination to that shared experience.
"Lucille's poetry can be found all over campus," said Maggie O'Brien, president of SMCM. "Her words are on the walls of the campus center, in our bookstore, and in the hearts and minds of our students, faculty and staff."
Clifton's poetry is even woven into the landscape on the four-year liberal arts campus. Seven poems that Clifton wrote about the attacks of September 11, 2001, are on stone plaques around St. John's Pond. They provide a means of reflection on the nature of hate, love and compassion.
Her colleague and current Poet Laureate of Maryland, Michael Glaser, said that Clifton's work "is one of the great treasures of American letters."
Clifton began teaching writing at SMCM in 1990. In 2005, she lightened her class load to devote more time to writing and other projects.
As the author of 10 collections of poetry, one autobiographical prose work, and 19 children's books, Clifton has brought poetry to millions. She has appeared on "The Today Show," "Sunday Morning with Charles Kuralt," "The Power of the Word with Bill Moyers," and "Nightline with Ted Koppel." Her most recent publication, The Terrible Stories, was a finalist for the National Book Award, the Lenore Marshall Prize, and the Los Angeles Times Book Award. In 2000, Clifton was given the National Book Award in Poetry for Blessing the Boats.
Among Clifton's many fellowships and awards, she has also received an Emmy Award from the American Academy of Television Arts and Sciences and was a finalist for the Pulitzer Prize.
The Ruth Lilly Poetry Prize honors a living U.S. poet whose lifetime accomplishments warrant extraordinary recognition. Previous recipients have included Adrienne Rich, Anthony Hecht, Maxine Kumin, Philip Levine, and John Ashbery.