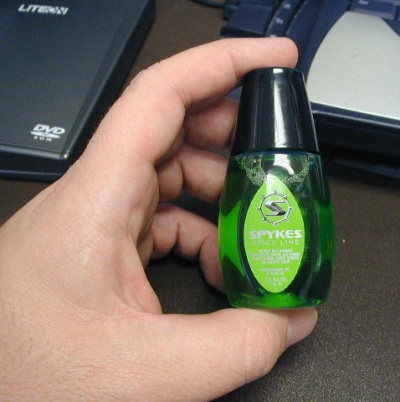 Spykes, a caffeinated alcoholic beverage produced by Anheuser-Busch, poses significant health and safety risks says Md. Attorney General Douglas F. Gansler. Photo courtesy Md. Attorney General's Office.
ANNAPOLIS - Citing serious health concerns, Attorney General Douglas F. Gansler yesterday called on Anheuser-Busch Companies, Inc. to provide readable warning labels that alert consumers about the health risks posed by alcohol energy drinks containing caffeine and other stimulants. In a letter to Anheuser-Busch, Attorney General Gansler and Attorneys General from 28 states noted that medical doctors and public health professionals have warned that combining caffeinated energy drinks with alcohol – a practice popular among young people – poses significant health and safety risks.
Anheuser-Busch's caffeinated alcoholic beverages include Spykes, TILT and Bud Extra. These drinks with a caffeine kick are similar in nature to non-alcoholic energy drinks currently popular with youth under 21. They are primarily marketed on websites popular with young people. "These alcoholic energy drinks are promoted and packaged in a way that is highly attractive to kids," said Attorney General Gansler. "Drinks such as Spykes clearly are marketed to appeal to children in both taste and appearance. If Anheuser-Busch is going to hold itself out as a partner in the fight against underage drinking, then it must stop marketing these types of drinks that so strongly appeal to underage youth."
Spykes is available only in fruit and chocolate flavors, and comes in small, attractive, brightly colored, plastic containers that can be easily concealed in a pocket or purse. Advertisements for Spykes, TILT and Bud Extra also tout the products' caffeine content and other additives that youth are likely to associate with popular non-alcoholic energy drinks. Spykes contains 12- percent alcohol by volume – more than twice that of most flavored malt beverages and beers.
The Attorneys General believe that these types of alcohol energy drinks must include a clear warning to consumers about the risks of mixing energy drinks with alcohol. The Attorneys General call upon the company to act promptly to address their concerns about the production and marketing of these products.
Source: Md. Attorney General Douglas F. Gansler