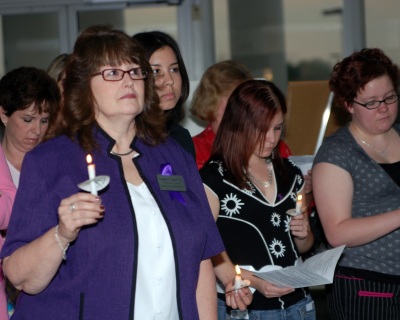 Participants of the annual candlelight vigil, held at the Charles County Courthouse on Tuesday, April 24, light candles in honor of all victims of crime.
LA PLATA, MD. - The Center for Abused Persons, Charles County Sheriff's Office, Charles County State's Attorney's Office, victim advocates and citizens gathered Tuesday, April 24 to honor victims of crime during an annual candlelight vigil. The event was held at the Charles County Courthouse at 7 p.m.
The event, held during Crime Victims Rights Week, was held in honor of crime victims whose lives were lost and to support survivors. The event's theme "Every Victim, Every Time," signified the importance of providing every crime victim with support through their experience in the aftermath of a crime. It was held during Crime Victim Rights Week, during which crime victims, survivors and victim services providers join together across America to promote victims' rights and services and to educate communities about the devastating impact of crime on victims, neighborhoods, schools and our nation.
Rosemary Raiman, victim advocate of the Center for Abused Persons, coordinates the vigil in Charles County each year. About 50 citizens and supporters including Sheriff Rex Coffey, Delegate Peter Murphy, State's Attorney Leonard Collins, Fern Brown — the domestic violence coordinator at the Charles County Courthouse — citizens and representatives from the Center for Abused Persons, Sheriff's Office, State's Attorney's Office and Civista Medical Center's Forensic Nurse Examiner Program attended the vigil. Delegate Murphy presented Sheriff Coffey, State's Attorney Collins and the Center for Abused Persons with a proclamation on behalf of the Charles County Commissioners.
For more information about the Center for Abused Persons, call 301-843-1110.