WALDORF, Md. - On Tuesday, May 1 at 5 p.m., Charles County Sheriff's officers responded to the Chevy Chase Bank located at 1130 Smallwood Drive West in Waldorf for the report of a bank robbery.
The officer's investigation revealed that a male suspect entered the bank and presented a teller with a letter threatening to shoot her if she did not provide him with cash. The teller complied with the demand and the suspect fled the scene with an undisclosed amount of money to a nearby parking lot, where he entered a Chevrolet S-10 Blazer driven by another male.
In addition to the victim teller, there were three other tellers in the bank during the robbery. No one was injured.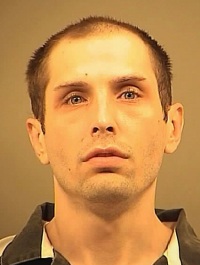 During the investigation, detectives identified the suspect who robbed the bank as Michael Eugene Collins (pictured at left), Jr., 26, of Waldorf, who was already wanted for a probation violation. On May 2 at 5:22 p.m., members of the Sheriff's Office's Tactical Response Squad responded to the Cadillac motel in Prince George's County after detectives received information indicating Collins was there. The squad found Collins in a room and arrested him for the previous warrant.
Collins is being held at the Charles County Detention Center without bond. Charges against him for the bank robbery are pending. Detectives also identified the person who drove the truck from the scene and are investigating his involvement in the robbery.
Det. C. Shankster is investigating.