LA PLATA, Md. - The Charles County Sheriff's Department today released the following incident and arrest reports.
ARMED ROBBERY: On May 2 at 5:42 p.m., a 19-year-old Waldorf man was walking along a wooded path at the end of Dartmouth Court in Waldorf when he was approached by a group of people, one of whom brandished a handgun and robbed him of his money and cigarettes. The victim fled the scene to a nearby residence and called 9-1-1. Charles County Sheriff's officers responded and located a group walking along Dartmouth Court. They identified one of the group members, Hubert Darell Shanklin, 24, of Waldorf, as the suspect who robbed the victim. Shanklin was arrested and charged with armed robbery and theft valued at less than $500. The victim was not injured. Officer W. Jackson investigated.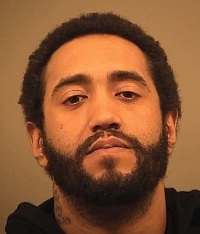 FUGITIVE ARRESTED: On April 22 at 10:15 p.m., Charles County Sheriff's Officer W. Saunders arrested Christopher DeWayne Jenkins (pictured at left), 28, of Charlotte Hall at the District 1 Station in La Plata. Jenkins, who was wanted for shooting off-duty Charles County Sheriff's Officer J. Thompson on April 15 (See
Police Continue Search for Roommate/Cousin Who Shot Deputy in Waldorf on Sunday
), turned himself in without incident. He was charged with first- and second-degree assault, reckless endangerment and using a handgun in the commission of a felony. He is being held at the Charles County Detention Center on $100,000 bond.