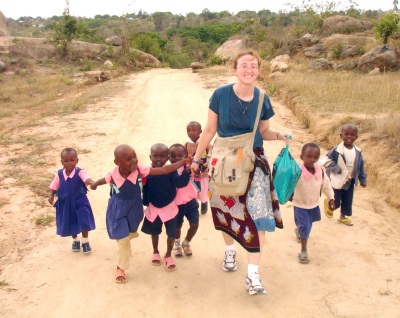 Lisa Byrne from Rockville, Md., is a St. Mary's College of Maryland (SMCM) graduate now serving in Kenya as a math teacher. Photo courtesy SMCM.
ST. MARY'S CITY, Md. - St. Mary's College of Maryland (SMCM) graduates are giving back to the world community in numbers greater than expected. The Peace Corps has ranked SMCM in 18th place on their list of all small colleges, nationwide, whose graduates go on to join the Peace Corps. The public liberal arts college has 17 alumni currently serving abroad.
St. Mary's College alumni have served in Morocco, East Timor, South Korea, Moldova, Ukraine, Bot-swana, Mauritania, Thailand, Turkmenistan, Poland, and Nepal. Alumni have worked as teachers of English, special education and mathematics; as health aids and educators; and in fields including agriculture, forestry, business and marine sciences.
Maggie O'Brien, president of SMCM, said, "Our inclusion on this list shows how important the tradition of community service is at SMCM. I am very proud of all 73 alumni who have served in the Peace Corps since 1973."
The most recent students accepted into the Peace Corps are three graduating seniors. Joshua King (Takoma Park, Md.) will go to the Republic of Georgia, Lillian Mendelson (Bel Air, Md.) to the Dominican Republic, and Aubrey Delaney (Baltimore) to Tanzania.
Lisa Byrne from Rockville, Md. and the Class of '06, is now serving in Kenya as a math teacher. Byrne works at a rural public secondary school teaching high school mathematics and physics. She is also starting a health club focusing on HIV/AIDS. Byrne credits here liberal arts education at St. Mary's with giving her the confidence to teach many subjects. Byrne was a teaching assistant in the St. Mary's math department and one of the select students in the College's Nitze Scholars Program.
Several Peace Corp alumni have provided leadership for current study-abroad options for students at SMCM. The College's ten year-long study-abroad program with The Gambia in West Africa came about, in part, because of the Peace Corps. Bill Roberts, now a professor of anthropology at SMCM and Fulbright Award recipient, was a Peace Corp volunteer to The Gambia when he was a young college graduate. The village where he served in the early 1970s has become one of the focal points of SMCM's study abroad program.
Courtney Calvin, regional recruiter for the Peace Corps, is now interviewing eleven applicants from SMCM. St. Mary's is one of ten colleges that she recruits from. Calvin said, "The students at St. Mary's have a very strong interest in the program. I get about ten times the number of applications from SMCM compared to other schools of similar size—and about half are from anthropology."
Calvin added that Bill Roberts has been a source of inspiration to many students who have applied. Calvin has spoken to his classes and to the Math Club. She has also been to Terrell Lasane's psychology classes. Liberal arts students can make good volunteers, Calvin said, because the qualifications for the program aren't based just on a degree. The Peace Corps also looks for service, professionalism, motivation and commitment. Calvin was a Peace Corp volunteer in the Kyrgyz Republic before she became a recruiter.
In 2006, the Peace Corps received about 12,000 applications and selected 4,000 for the year. The commitment is for 27 months, which includes three months of training and two years of service. Training is done in the country of service and includes instruction in language, health and medicine. After completing their service, the Peace Corps offer volunteers job placement services. They also partner with 80 graduate programs so that volunteers can combine service and grad school. The Peace Corps began in 1963 and is a U.S. government agency serving in 73 countries with 60 programs. Only U.S. citizens are accepted into the program.