By PATRICIA M.MURRET, Capital News Service
WASHINGTON - Two Maryland soldiers serving in Iraq and Afghanistan died last week.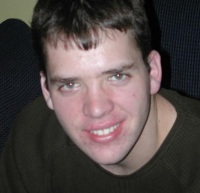 Gwilym J. Newman, 2002 graduate of Waldorf's Thomas Stone High School, was killed in Tarmiyah, Iraq on April 12, 2007. Photo from
Gwilym's MySpace page
.
First Lt.
Gwilym J. Newman
, 24, recently of Waldorf, a tank platoon commander, died April 12 of gun wounds he sustained while on foot patrol with his platoon in Tarmiyah, Iraq.
Sgt. Edelman L. Hernandez, 23, of Hyattsville, an infantryman also on foot patrol with his unit, drowned April 11 in the Korengal River, Korengal Valley, Afghanistan.
"It took us by surprise. We weren't expecting anything like this," said Samantha Rose Newman, of her husband's death.
The 22-year-old widow said she was home alone with her toddler son in Rockwall, Tex., Thursday evening when two officers from Fort Hood, her husband's home base, appeared on her doorstep to tell her that her husband had been killed.
"There is no feeling that describes when you see two uniforms at your door," Newman said. "It's something that I will never forget. My husband had a big joke: He always told me that if I saw two high-ranking officers at the door to 'Turn around and run.' I wouldn't wish it on anybody else."
Her husband was the only soldier from his patrol, the 2nd Battalion, 8th Cavalry Regiment, 1st Brigade Combat Team, 1st Cavalry Division, of Fort Hood, Tex., killed in Thursday's enemy attack, Newman said.
"They made sure he came home to me."
A 2002 graduate of Waldorf's Thomas Stone High School, Newman was 15 when she met her husband, who was then 18, while playing a game of volleyball at Six Flags amusement park in summer 1999.
Her future husband, a graduate of Waldorf's Westlake High School, was headed to Frostburg State University to study psychology in a pre-med program.
"I remember watching him and thinking he was going to be something," Newman said. "He followed me into the wave pool and tried to drown me . . . He decided that day he wanted to marry me."
They married June 5, 2004.
Four days later, Gwilym Newman started training at Fort Knox, Tenn., and joined his post at Fort Hood in July 2005.
He deployed to Iraq in November.
Newman dreamed of being an Army doctor, his wife said, and planned to begin physician's assistant studies upon returning from Iraq, then continue to medical school.
The soldier leaves behind his wife, and a son, Gwilym Alexander, who will turn 2 on April 27, the day his father would have turned 25.
Newman is also survived by his mother, Christine, sister Brittany, 22, and brother Patrick, 14, of Rockwall, Tex.
The family will bury the soldier next week in Mesquite, Tex., next to his father, Peter Gwilym Newman, who died Sept. 17, 2005.
In Lanham, the family of Sgt. Edelman L. Hernandez, of Hyattsville, also grieves.
Hernandez, an infantryman with the Company A, 1st Battalion, 32nd Infantry Regiment, 3rd Brigade Combat Team, 10th Mountain Division (Light Infantry), based in Fort Drum, N.Y., accidentally drowned in Afghanistan's Korengal River April 11, said Benjamin E. Abel, a Fort Drum spokesman.
Hernandez was on foot patrol with his unit near Babyal Village, Afghanistan, when he lost his footing and fell into a deep section of the river around 6 p.m., Abel said. Though members of his unit began an immediate search, the soldier's body was not recovered until the next morning, some distance downstream from where he had reportedly fallen.
The incident remains under investigation, the spokesman said.
A Hyattsville native, Hernandez joined the Army in April 2003, after completing boot camp at Fort Benning, Ga. That October he was assigned to Fort Drum's 10th Mountain Division.
He deployed to Iraq with his battalion, the "Chosin Battalion," in December 2003 and served there until the following September.
During that deployment, he earned a Purple Heart and the Bronze Star Medal, among other awards.
In February, Hernandez completed another year's combat service in Afghanistan and a four-year commitment to the Army, but he was not allowed to go home.
His unit was ordered by the Pentagon in late January to stay in the combat zone another 120 days.
Hernandez is survived by his parents, Jose S. and Norma E. Hernandez of Lanham, and two younger brothers.
RELATED INFORMATION:
Gwilym Newman's MySpace Page