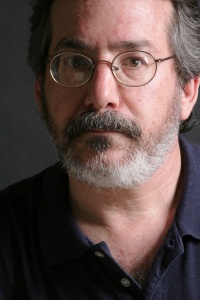 SMCM Professor David Froom has been named 2006 Music Teachers National Association Distinguished Composer of the Year. Photo courtesy SMCM.
ST. MARY'S CITY, Md. - David Froom, St. Mary's College of Maryland (SMCM) professor of music, has been selected the 2006 Music Teachers National Association (MTNA) Shepherd Distinguished Composer of the Year. Froom's composition "Lightscapes" was selected from among 33 works entered in this year's competition.
The MTNA-Shepherd Distinguished Composer of the Year Award is given to the composer of an outstanding composition submitted as a state-commissioned work. The $3,000 is made possible by MTNA member, Sylvia Shepherd.
"David Froom continues his career as a much-honored and prolific composer," said Larry Vote, provost of the College and professor of music. "He has also inspired many students to pursue composition at St. Mary's and beyond by his example of an excellent teacher. He has brought much honor to himself and this institution."
The composition "Lightscapes" is a ten-minute work for flute and piano, written during fall 2006. The work is in three movements, each with a title that refers to light, and music written to evoke that par-ticular "lightscape." The titles of the three movements are "Radiant," "Coruscating," and "Lambent."
"Lightscapes" was commissioned by the Maryland State Music Teachers Association, and was written for Eliza Garth and Lucille Goeres, who first performed it at St. Mary's College in November 2006. A recording of that performance was entered by the MSMTA into the Music Teachers National Associa-tion's competition. As a result of winning that competition, these performers were invited to perform the work at the MTNA annual meeting in Toronto. Following the performance, Froom was inter-viewed in an hour-long session, and was presented with the Shepherd Distinguished Composer of the Year award.
Froom's music has been performed extensively throughout the United States by major orchestras, en-sembles and soloists, including the Louisville, Seattle, Utah, and Chesapeake Symphony Orchestras. His works have also been performed by The United States Marine and Navy Bands, the Chamber Mu-sic Society of Lincoln Center, the Twentieth Century Consort, the New York New Music Ensemble, violinist Curtis Macomber, and saxophonist Kenneth Tse. Froom has performed in England, France, Germany, Austria, Italy, Holland, China, and Australia. His music is available on CD on the Delos, Arabesque, Capriccio, Centaur, Sonora, Crystal, Opus 3, and West Point Academy labels, and much of it is published by MMB Music, Inc. He has a new CD coming out in the fall on Bridge Records, fea-tureing highlights of his chamber music from the past ten years.
In addition, Froom has been honored by the American Academy of Arts and Letters by receiving both their Academy Award for Lifetime Achievement, and their Ives Scholarship. He has received fellow-ships or commissions from the Guggenheim, Fromm, Koussevitzky, and Barlow Foundations, and won first prize in the Kennedy Center's Friedheim Awards. Accolades have also come from The National Endowment for the Arts, and the state of Maryland (four Individual Artist Awards). Froom had a Ful-bright grant for study at Cambridge University, and fellowships to the Tanglewood Music Festival, the Wellesley Composers Conference, and the MacDowell Colony.
Since 1989, Froom has taught at St. Mary's College of Maryland where he now is professor and chair of the music department. He has taught at the University of Utah and the Peabody Conservatory. Froom holds degrees from the University of California at Berkeley, the University of Southern Cali-fornia and Columbia University.
MTNA is a nonprofit organization of nearly 24,000 independent and collegiate music teachers commit-ted to furthering the art of music through teaching, performance, composition and scholarly research. For more information about MTNA, please contact MTNA national headquarters at (513) 421-1420, (888) 512-5278, mtnanet@mtna.org or visit its website at www.mtna.org.