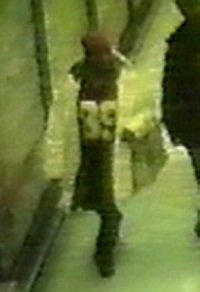 One of three suspects wanted by Calvert Police for burglary and Credit Card theft. Calif., Md. K-Mart store surveillance camera photo. Click photo to enlarge.
PRINCE FREDERICK, Md. - The Calvert County Sheriff's Office is seeking three suspects who are believed to have stolen a credit card from a Lusby residence and used it to buy merchandise at the California, Md., K-Mart store.
On February 28, Dep. James Bell responded to a home on Pine Blvd. in Lusby for the report of the theft of a credit card. During the course of his investigation, Dep. Bell determined that the stolen credit card had been used at various locations in Lusby and California, Md.
The Calvert Investigative Team (CIT) was subsequently assigned the investigation. CIT is a joint investigative team comprised of personnel from the Maryland State Police, Prince Frederick Barrack, and the Calvert Sheriff's Office.
Police say a review of the security tapes of the K-Mart store located in St. Mary's County revealed two black male suspects and a black female suspect purchasing electronic equipment and paying for it with the stolen credit card.
The black female has a large build, and was wearing a white jacket, a red jersey with the number 89 (possibly a Redskins jersey), black pants and a red head wrap.
One of the black male suspects was of medium build, wearing a black jacket with a white circle design on the back, blue jeans and a camouflage style shirt.
The second black male, possibly a juvenile, was of medium build wearing a gray jacket, white t-shirt, blue jeans and black shoes.
Anyone recognizing the individuals responsible is asked to contact Sgt. T. Fridman at 410-535-2800 ext. 2547.