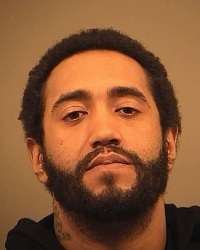 LA PLATA, Md. - The Charles County Sheriff's Office is continuing its search for the man police say shot his cousin on Sunday at the apartment they shared in Waldorf. The victim is a Sheriff's deputy.
Major Crimes Unit detectives obtained a warrant yesterday evening for the arrest of Christopher DeWayne Jenkins (pictured at top left), 33, who had been living with his cousin, Officer James Thompson, 33, at the officer's apartment in the 2600 block of Husk Place in Waldorf. The warrant charges Jenkins with first- and second-degree assault, using a handgun in the commission of a violent crime and reckless endangerment.
On April 15 at 2:45 p.m., Charles County Sheriff's officers responded to a citizen's report of unknown trouble at the apartment complex. As the call was being received, Officer Thompson issued an officer in distress alert to police communications via the emergency button on his police radio.
When officers arrived on the scene less than four minutes later, they discovered Officer Thompson inside the apartment with a gunshot wound to his arm. Emergency Medical Services personnel were summoned to the scene and transported the officer by ambulance to Prince George's Hospital Center. He remains hospitalized but is expected to recover from his injuries.
Police say the investigation has revealed Officer Thompson was off-duty at the residence and for reasons still under investigation, Jenkins obtained Officer Thompson's off-duty weapon and used it to shoot the officer in his arm. The Sheriff's Office originally reported the handgun used was the officer's Agency-issued .40-caliber Beretta service weapon but investigators later discovered Jenkins used the officer's off-duty Glock. Both weapons were recovered at the scene.
Deputies quickly identified Jenkins as the suspect and launched an intensive search that has spanned the county and included residences of family members and other locations Jenkins is known to frequent. Dozens of officers participated in the search but Jenkins has not been located. The Maryland State Police and St. Mary's County Sheriff's Office have assisted in the search for Jenkins and other law enforcement agencies were notified and have remained on the lookout.
Jenkins is a black male, 28 years of age, 6 feet 2 inches tall and 185 pounds and has a medium build. In a press release issued after the incident occurred, the Sheriff's Office erroneously reported his weight as 285 pounds. Jenkins also has a tattoo on the right side of his neck.