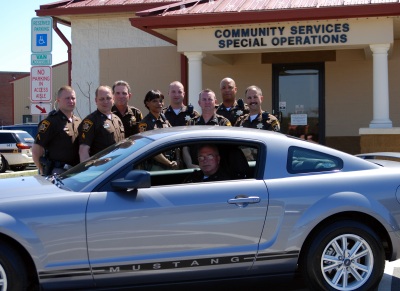 The Charles County Sheriff's Office plans to use this unmarked Ford Mustang to address aggressive drivers. Photo courtesy CCSO.
LA PLATA, Md. - The Ford Crown Victoria is the ubiquitous police cruiser. Marked or unmarked, its presence rarely goes unnoticed on the roadways. So when motorists in Charles County see a gray Ford Mustang they probably won't suspect to see a police officer driving — and that's the point.
The Charles County Sheriff's Office has acquired a 2006 Ford Mustang which, from its exterior, appears to be just another car in traffic but on the inside is equipped with radar, emergency lights, a police radio and an officer who is ready to make traffic stops and issue citations to drivers who fail to obey the law.
"We want citizens to be aware we are using this vehicle for traffic safety enforcement," said Charles County Sheriff Rex W. Coffey. "It is going to be an effective law enforcement tool because it blends right in with all the other cars, making it possible for officers to covertly make observations, identify the most aggressive drivers and stop them."
The Sheriff's Office says they are making the public aware of the unmarked car in the hope that motorists will be less likely to commit a traffic violation while driving in Charles County.
"Traffic tends to go a lot slower when a Crown Victoria is around, which is one of the reasons we have more officers on patrol now, but as soon as that cruiser is out of sight, people speed up again. The idea of the Mustang is you never know where it might be or which Mustang you see might be a police car so you have to be on your best behavior at all times," said Sheriff Coffey.
In 2005, when the number of traffic fatalities soared to 40 from 16 in 2004, the Sheriff's Office increased its traffic safety enforcement efforts. In 2006, fewer traffic fatalities occurred — 31 people died in vehicle collisions. A reduction was welcome news but with speeding and driver error commonly listed as causes of the crashes, the Sheriff's Office recognizes the need to continue aggressive enforcement initiatives. Speed continues to be the leading cause of vehicle collisions.
To report a motorist who is speeding in Charles County, call the Sheriff's Office at 301-932-2222 in La Plata, 301-932-7777 in Waldorf or 301-743-2222 in Indian Head and provide a description of the vehicle including make, model, tag number and direction of travel.