By LIZ FARMER, Capital News Service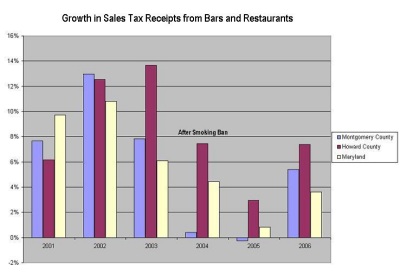 Sales tax receipts from Montgomery County bars and restaurants leveled off after the smoking ban in 2003 while receipts continued to grow from establishments without liquor licenses. Click photo to enlarge. Source: Maryland Comptroller.
BETHESDA - When Montgomery County became the first jurisdiction in Maryland to ban smoking in bars and restaurants in 2003, county officials predicted that non-smokers from across the region would come "flocking" to the area, "grateful for the chance to eat smoke-free."
But more than three years after the Montgomery County ban went into effect, Greg Hourigan, the owner of Hard Times Cafe in Bethesda, doesn't quite remember it that way.
"Flocking?" he asked with a laugh. "People did not come in droves to Bethesda after the ban, that's for sure."
Now that the ban on smoking in bars and restaurants will be enforced statewide beginning in February, restaurant owners across the state may be taking another look at the short-term impact on establishments in Montgomery County - which has been under a ban for three and a half years - to see what awaits them.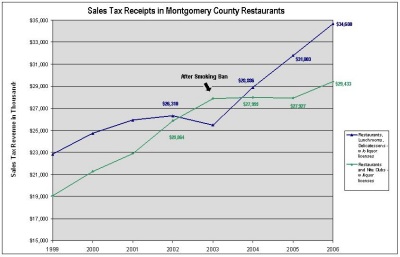 The growth in sales tax receipts collected from establishments with liquor licenses in Montgomery County virtually stopped for two years after the passage of a smoking ban. By comparison, taxes collected from bars and restaurants in neighboring Howard County and in the state as a whole continued to grow. Click graph to enlarge. Source: Maryland Comptroller.
A review by Capital News Service of state sales tax data from the Maryland comptroller shows that Montgomery County bars and restaurants with liquor licenses saw growth in their revenues come to a virtual stop immediately after the smoking ban. Conversely, the sales tax data show that county restaurants and cafes without liquor licenses continued to experience steady growth. In addition, tax receipts from licensed establishments in neighboring Howard and Prince George's counties, which did not yet have smoking bans, also continued to grow.
The figures alone are inconclusive, however. Growth in revenues for establishments with liquor licenses as measured by tax receipts had already been slowing throughout the state in the two years before the 2003 Montgomery smoking ban.
Other factors such as the economy and changing business tides may explain the trends. In addition, the original proponents of the ban say that any leveling-off or downturn in revenues was a temporary blip in the vigorous long-term growth in restaurant and bar revenues the county has experienced.
Indeed, operators of some businesses which took a sharp hit after the smoking ban have repositioned their establishments and say that business is now better than ever.
"We've angled the business toward everyone now, whereas before it was very blue collar," says Gordon Banks, the manager of Quarry House Tavern in Silver Spring. Though business at the Quarry House saw a drastic drop after the smoking ban, Banks says it is now booming.
"Rather than just being a smoky dive, it's become other things," he said
One of the establishments that saw a downturn was Hourigan's Hard Times Cafe, a mid-sized chain restaurant and bar in downtown Bethesda. Although not the kind of "smoky dive" that smoking ban opponents said would be most harmed, Hourigan says he saw a 6 to 10 percent drop in bar sales during the first year after the ban in October of 2003.
"Our growth rate was very steady for the first years we were open and then it went flat," he said.
Others say the ban hit them far harder.
Macdara "Mac" Tigue, owner of Flanagan's Harp and Fiddle, another mid-sized venue in Bethesda, says his bar sales dropped by about 30 percent during the first year of the ban. Tigue blames the fact that smokers were at that time still able to go to the District, Prince George's or Howard counties.
"It had a major, major effect because Bethesda is so close to the D.C. line," Tigue said. "The smokers stayed downtown for the happy hours."
Since Montgomery County's ban, five other Maryland jurisdictions - including neighboring Howard and Prince George's counties - and the District of Columbia have voted to go smoke-free.
In the waning hours of this year's General Assembly session, Maryland legislators voted to make that ban statewide, and Gov. Martin O'Malley has agreed to sign the bill.
The final bill includes an exemption for tobacco shops but not for private clubs like the American Legion. Some establishments may apply to the state for a hardship waiver, which would be enforced by local officials.
Proponents of the smoking ban championed it as a public health issue, and said current law permits harm to restaurant employees who work in smoking establishments and breathe secondhand smoke during their shifts.
"The bottom line is, it's about health," Councilman Phil Andrews, the original sponsor of the Montgomery County ban, said. "The hardship that's experienced is by the employees of restaurants who have to breathe unsafe air."
Some Montgomery County servers, however, said they preferred to work in smoking sections before the ban, where tips typically ran between 5 to 15 percent higher.
"I always thought that was ridiculous," says Banks. "You have a choice where to work."
Opponents of the bill, primarily business owners and tobacco vendors, have maintained that a smoking ban should be an individual business owner's decision, and that hurt most will be smaller, neighborhood restaurants and bars that rely mostly on customers who are smokers.
Hourigan, who was the Montgomery County Chapter president of the Restaurant Association of Maryland (RAM) in 2003, and other restaurant owners say they fought the county ban for precisely those reasons.
But while some businesses say that they lost money from bar sales after the smoking ban was enforced, others say their sales went up for a short time after the ban.
"I was vehemently against the smoking ban, I was nervous about it," said John McManus, co-owner of The Barking Dog in Bethesda. According to McManus, his sales went up the first few months following the ban before dipping back to normal.
The owner of five different bars over the course of 25 years, McManus says that his Bethesda business is successful because it has a unique interior, draws a young crowd and has competitive prices.
"If you can't survive without smoking then you're dead anyway," he said.
The idea that some gained and others lost seems to be consistent with the sales tax figures that show a leveling off period in the county for restaurants and bars with liquor licenses. Because liquor licensees are more likely to allow smoking or have a smoking section, and because many argue that smoking and drinking tend to go hand-in-hand, their data was separated from non-licensees.
Before the ban, the state showed increased sales tax receipts from county bars and restaurants with liquor licenses each year from 2000 to 2003, though the rate of increase had been declining even before the smoking ban. After the smoking ban went into effect, however, the reports show a less than 1 percent gain from the previous year. And in 2005, restaurants and bars in Montgomery County showed an actual decrease in sales tax receipts reported by about one-quarter of a percent.
By comparison, during the post ban years, the state showed a fairly steady increase in sales tax receipts from restaurants and bars with liquor licenses in neighboring Howard and Prince George's counties.
Prince George's licensees showed an increase of about 7 percent per year, from 2000 to 2005. The Prince George's smoking ban was enacted in 2006, during which time licensed establishments show a 1 percent drop in sales taxes collected.
Receipts from establishments without liquor licenses for all three counties show average increases ranging from 11 to 17 percent per year for the past four years.
Last year, Montgomery County licensed establishments showed a 5.4 percent increase in sales taxes collected, which put the group ahead of where it was in 2003. But owners point out that businesses lost out during the time period when sales leveled off.
"If you don't have sales growth, you're just dead in the water," Hourigan said. Despite the initial mixed reviews, however, most owners say that, at this point, they support the statewide smoking ban because it creates a level playing field between businesses across the state. The notion of competing jurisdictions seemed to play out between Bethesda and Washington, D.C., before the District banned smoking this year. At Maggiano's Little Italy in Washington one block from the Maryland line, bar sales increased about 35 to 50 percent for the first few months after Montgomery County banned smoking, according to Sidiky Bakayoko, the banquet operations manager.
To that end, owners are pleased that private clubs will not be exempted from the ban, according to Melvin Thompson, a spokesman for RAM.
"I just don't want to see loopholes," Fenton Galway, owner of Galway Bay in Annapolis said. "Either we're going to go non-smoking as a state or we're not."
Owners and employees in Montgomery County also seem to agree that for the most part business has gotten back to normal after three years.
Tigue's restaurant is in a new location in Bethesda, complete with a smoker-friendly patio featuring an awning and outdoor heaters. Many restaurants have expanded their menus and remodeled, taking down the smoke filters and repainting the nicotine-stained walls.
But owners say the adjustment period requires patience. While some long-time customers who smoke may disappear altogether, others may simply frequent the places with the most convenient outdoor smoking area. "The pro-ban people were very inaccurate in saying the non-smokers would come in," says Tigue. "What happened is the smokers got used to the ban."
In Annapolis, Galway, who will be trading in his old ashtrays at the bar for perhaps a "smoker's awning" out front, says he is more resigned than upset about the ban. "What can one do?" he asked. "I don't like going home smelling like smoke, but they've had a right to do it for hundreds of years. It's what makes a bar, a bar."