'It's a pleasure to come to work,' said 79-year-old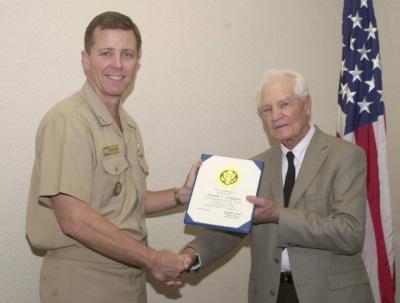 Rear Admiral Richard E. Cellon, Commander, Naval Facilities Engineering Command (NAVFAC) Atlantic, presented Harold "Floyd" Atkinson with a 50-year pin and a certificate signed by the Secretary of the Navy in a recent ceremony. Photo courtesy NAVFAC.
INDIAN HEAD, Md. - Harold "Floyd" Atkinson, a Boiler Plant Worker in the power plant at Naval Support Facility Indian Head, recently exceeded the incredible milestone of 50 years of Federal service. Rear Admiral Richard E. Cellon, Commander, Naval Facilities Engineering Command (NAVFAC) Atlantic, presented Atkinson with his 50-year pin and a certificate signed by the Secretary of the Navy in a recent ceremony.
"He has given us five decades … a lifetime of worthy service," Cellon said. "That is spectacular!" Out of more than 175,000 civil servants, fewer than 10 people achieve this milestone each year.
But for Atkinson the spectacular is just another day at the plant. Among his co-workers and supervisors, Atkinson is somewhat of a superman. They have seen him leap on tall buildings, stop raging boilers single-handedly, and they swear he is the epitome of truth, justice and the American way (he was even born on the Fourth of July).
Although Atkinson will be 80 years old on July 4th, he is not thinking about retirement. "It's a pleasure to go to work," he said. "Most people my age can't. But if I go home, my wife is there and she will have something for me to do. And I don't like yard work."
He was born in 1927 and grew up in Brooklyn, N.Y. where he first tried enlisting in the Navy as soon as he finished high school. "I was told I was too young, so I tried the Marine Corps a little later, and in 1946 the Marines took me," he said. Atkinson spent his time as a Marine in Korea with the 1st Marine Division as a rifleman and platoon sergeant; at sea in naval deployments aboard USS Forrestal and also served in Guam. After his discharge from the Marine Corps in 1954 he decided to give the Army a try and enlisted as an Army medic. He told the Army detailer he didn't like hot weather, so received orders to Iceland and learned to watch out what you ask for. He met his future wife Kathleen in England and when he received his discharge in 1957, moved back to New York and got married. He spent the next 10 years working miscellaneous jobs which included time spent on a merchant vessel.
"In 1967, I came to Indian Head for a job at the NG (nitroglycerin) plant as an ordnance man," Atkinson said. He watched a demonstration about the explosiveness of nitroglycerin and decided he wanted to try a safer job. "I worked there about two years then came over to the power plant and have been here ever since."
At the power plant, his current position entails loading coal in the tower and conveyor belts that transfer coal from the pile to the hoppers. "It's about 100 feet off the ground," he said of the scaffolding he works on. "It's pretty dirty up there and most folks don't like it, but I don't mind it so much."
According to his supervisors, Atkinson is frequently covered in coal dust, but always showers before going home and jokingly attribute that as the reason his wife has stuck with him for 50 years.
In his 50 years of service there have been a lot of changes. Atkinson has seen 15 commanders of the Naval Surface Warfare Center Indian Head Division come and go, and the name of the facility and agency he works for change as well. He bought his first house outside the base for $4,000. He raised four children and has 13 grandchildren and seven great-grandchildren - and spends much of his off time teaching many of them how to fish. He also enjoys swimming ("I try to go once a week.") and shooting.
"I was always a pretty good shot with a rifle. I was an expert with an M1 in the Marine Corps," he said, "however I wasn't that good with a pistol. But about five years ago (at the age 74) I went down to the range with the police here and … qualified as a high expert!"
"I owe it all to my wife," he said. "She's a great cook and kept me fit and as long as I'm healthy I have no plans to retire."