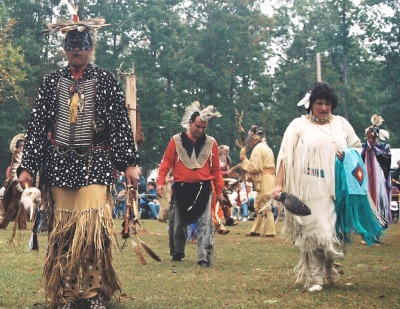 Members of the Cedarville Band of Piscataway Indians Perform in their Native American Dance Workshop which can be seen at the opening day celebration at Jefferson Patterson Park & Museum in Calvert County on Sunday, April 15. Photo courtesy of JPPM.
ST. LEONARD, Md. - On April 15th, 2007, Jefferson Patterson Park & Museum (JPPM) will open their 2007 season with a very special Opening Day and Earth Day celebration that will feature a Native American Dance Workshop hosted by the Cedarville Band of Piscataway Indians. Other activities ongoing throughout the day will include a presentation by the Patuxent Riverkeeper, displays and activities by community organizations, free refreshments, kite flying, trail hiking, and children's activities including face painting, arts & crafts, ATLATL (an ancient form of Native American spear-throwing), among other activities.
JPPM's Opening Day and Earth Day celebration is free and open to the public. Activities run from 10:00 am through 5:00 pm. The dance workshop, which is a part of the Patuxent Encounters Speakers Series, will begin at 12:00 noon.
"This is where it all begins," stated Michele Parlett, Public Services Coordinator. "This exciting Opening Day celebration will set the tone for the rest of the 2007 season."
Throughout the day, information will also be available about JPPM's 2007 season, which includes workshops, speaker series, public archaeology, Patterson House Tours and special events. With the exception of their annual events, the focus of JPPM's 2007 season is Eastern Woodland Indian culture, in preparation for the August 4th & 5th festival, Patuxent Encounters: The Patuxent Indians and Captain John Smith.
Patuxent Encounters is a two-day festival focused on the lasting contributions that American Indians have made and continue to make to the social, political, technological, and cultural fabric of this nation. The event will feature traditional dance, music, storytelling, craft demonstrations and hands-on activities, native games, archery, a large "We Are Still Here" exhibit area, and JPPM's newly constructed Eastern Woodland Indian Village.
Grammy award winning artist Joanne Shenandoah will perform on August 4th. As a part of the 400th Anniversary of Captain John Smith's voyage in the Chesapeake, Sultana Projects, Inc.'s recreated shallop, a boat modeled after John Smith's original vessel, will land at Jefferson Patterson Park & Museum on August 5th.
"We are trying to create a build-up to Patuxent Encounters by offering workshops and speaker series on related topics," said Mike Smolek, Executive Director of Jefferson Patterson Park & Museum. "While Patuxent Encounters is a festival, there is also a very strong educational component involving the past, present, and future of Maryland's Indians, which the majority of the general public is unaware of."
Workshops will be ongoing at JPPM throughout the season. Local artisans will conduct classes on basketry, pottery, bead-making, natural dyes, and much more. Visitors can also watch JPPM's Eastern Woodland Indian Village being constructed. "This season is packed with exciting and informative programming. We feel that there will be something for everyone to enjoy," says Education Coordinator Eric Frere.
JPPM is also hosting two speaker series in 2007. The Patuxent Encounters Speaker Series began in January; and is a seven-month series focused on contemporary issues for Maryland's Native Americans, which has been put on in conjunction with the Maryland Commission on Indian Affairs. The second speaker series, Presentations in Archaeology, will feature Maryland archaeologists discussing topics such as the archaeology of Native Americans in Southern Maryland and will be held at JPPM in the summer months.
Jefferson Patterson Park & Museum will also host its annual events, which include Children's Day on the Farm, African American Family Community Day, and the War of 1812 Reenactment.
"This season is going to be monumental for JPPM," stated Megan Williams, Heritage Tourism Coordinator at JPPM. "All of our annual events will feature old favorites, but will also be revitalized with exciting new demonstrations and activities. For example, this is the 22nd year for Children's Day on the Farm, an event which many people in this area have grown up attending. This year, it will have all the excitement of the past decades but will be refocused on Southern Maryland's rural heritage and will include new activities. Big things are happening at Jefferson Patterson Park & Museum this summer; and we hope everyone will come out and join us."
Jefferson Patterson Park & Museum's special events are sponsored in part by the Friends of Jefferson Patterson Park & Museum, Chesapeake Bay Gateways Network, Maryland Heritage Areas, Marrick Properties, Harms Corporation, Chaney Enterprises, Comcast, and Show Place Arena. For more information about Opening Day or the 2007 season, please call Jefferson Patterson Park & Museum at 410-586-8501 or visit
http://www.jefpat.org/
.