By PATRICIA M.MURRET, Capital News Service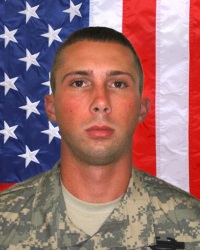 WASHINGTON - Last fall, Army Sgt. Thomas Lee Latham (pictured at left) and his wife were faced with a tough decision: whether the infantryman, deployed to Iraq on stop-loss orders in August, should use his two-week annual leave coming home for Christmas, or save the time until later.
Today, Latham's wife, Rachel Guy-Latham, 22, of Delmar and family are grateful that the soldier wanted to share Christmas with his two young children, she said.
"Tommy Lee" Latham, 23, a Delmar native, was killed Sunday in Iraq by a roadside bomb. He was serving with Company "C" of the 2nd Battalion, 14th Infantry Regiment, 2nd Brigade Combat Team, 10th Mountain Division, and deployed with them from Fort Drum, N.Y., in August as part of the infantry.
"I've cried my eyes out, and I don't think I am physically able to cry anymore," Guy-Latham said Tuesday. "It's just not happening. And I have so many things I have to deal with. It's overwhelming."
Guy-Latham met her husband in seventh grade at Wicomico Middle School, and the couple remained friends throughout their years at Salisbury's Wicomico High School. They started dating one summer several years ago when Latham visited Rachel Guy's home with mutual friends.
At "Wi High", Latham "always had a good word, always had a smile," his 12th-grade English teacher Lance Hodgdon said. "I just remember laughing a lot with him in class."
Hodgdon, who has taught at the high school for 29 years, remembers Latham as "a real hard worker," an A student in his class and someone who stopped in to visit after graduation.
"It's just tragic that this has happened."
Latham loved sports, especially football and hunting, which allowed him to relax in the quiet woods.
His mother-in-law, Florence Guy of Delmar, remembered the soldier liked to search for Indian arrowheads in the woods, something he did with his Dad over Christmas break.
"It was a quiet time that they could go and have time together," she said, "kind of like walking on the beach, looking for seashells."
Most of all, the women said, Latham enjoyed spending time with his children, stepson, Caleb Guy, 5, and Ariel Latham, 21 months.
"He was the kind of Dad who would sit down with the kids and read the same books 10 times in row," his mother-in-law said, "get down on the ground, play Thomas the train . . . He just did a really good job with the babies, and it's really tragic that they're not going to have more memories with him."
Latham enlisted in the Army the summer after his May 2002 graduation from high school, his wife said. Following boot camp, he joined "B" Company, 2nd Battalion, 27th Infantry Regiment, based in Hawaii, where he served as a rifleman and machine gunner.
In 2004, he was deployed to a yearlong tour in Afghanistan.
The couple married in April 2005.
"The military has kept them away from each other. They've been more apart than together," Florence Guy said.
Latham was supposed to leave the Army Sept. 11, 2005, his mother-in-law said, but he was ordered to remain ready for redeployment.
The soldier re-enlisted so he could return from Hawaii to be closer to his family before combat duty. He was sent to Fort Drum.
Over Christmas, Latham's parents, Barbara and Thomas Latham of Clyde, N.C., and his sisters and their husbands came to Delmar for a week to visit.
"Christmas Eve, the house was packed," Florence Guy said. "We were full to the brim, and it was wonderful."
Though Latham called home whenever possible, for safety precautions, he could not speak much of what he did on his infantry watch outside Baghdad, his wife said.
The Army contacted the family Sunday evening and told them that Latham had been driving a Humvee when a roadside bomb exploded, Guy-Latham said. An investigation into the incident is pending.
The children are still trying to process what happened, and it's up to Guy-Latham to help them, she said.
"So Mommy has to be happy and strong and act like everything's normal, everything's OK, so it's a little easier . . . Mommy's got to make it all better."
Details regarding the service and burial are pending, however a memorial service will be held at Emmanuel Wesleyan Church in Salisbury, the family said, and the pastor who married the couple will preside.
Latham earned the Bronze Star and the Purple Heart, which were awarded posthumously.