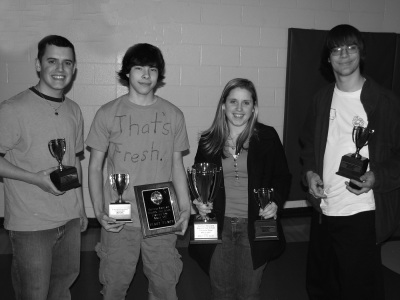 Northern High School took first place in this year's Southern Maryland Regional Computer Bowl. Team members from left are Justin Lowenthal, Steven Chow, Nicole Bohannon, and Evan Siefring. (Coach Eric Stroh not pictured.)
HUGHESVILLE, Md. - More than 80 young computer experts enjoyed a fast-paced challenge of their literacy and programming skills during the 18th Annual Southern Maryland Regional Computer Bowl, held March 3 at Thomas Stone High School in Waldorf. The Southern Maryland Computer Bowl is sponsored by Southern Maryland Electric Cooperative, the College of Southern Maryland, and the public school systems in Calvert, Charles, and St. Mary's counties.
Twenty-two teams from 11 high schools in Southern Maryland took part in the Computer Bowl. In the first round of the competition, students took a written test of their computer literacy. In the second round, teams of three to four students created computer programs to solve specific problems.
Northern High School won first place with team members Nicole Bohannon, Steven Chow, Justin Lowenthal, and Evan Siefring; the coach was Eric Stroh. A team from Huntingtown High School came in second place with team members Kevin Clark, Chris Hurley, Todd Pickering, and Brian Warlitner; their coach was Thomas Currier. Another team from Huntingtown High School won third place with team members Steven Byle, Patrick Cleary, Martin Overstrom, and Homer Rich; their coach was also Thomas Currier. Calvert High School won fourth place with team members Chris Giles, Josh Kruder, and Jeff Odell; their coach was Donald Cherry. Winners received plaques, trophies, and U.S. Savings Bonds. Members of the first-place team also received performance awards from the College of Southern Maryland.
Employees from the college and military contractors served as judges for the competition. This year's judges were Mike Bakondi, Bobby Beckner, Carrie Dalton, Sharon Essick, Heath Golub, Mike Hammett, Judy Kaleta, Karen Lusk, Tyler Murray, and Anita Trice of Booz Allen Hamilton; and Joe Burgin of the College of Southern Maryland.