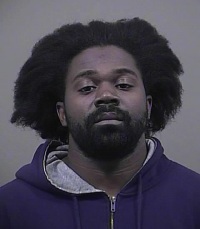 LA PLATA , Md. - The Charles County Sheriff's Office has identified the suspect in a shooting that occurred in Waldorf in 2006 and has obtained an arrest warrant. However, the suspect is incarcerated in another jurisdiction.
The investigation began when officers responded to the parking lot of Village Square Shopping Center in the 3600 block of Leonardtown Road in Waldorf on Oct. 26. at 6:47 p.m. for the report of the shooting. Upon arrival, they discovered a 34-year-old Waldorf/Suitland man who had been shot multiple times. The victim was flown by a Maryland State Police helicopter to a hospital where he was initially in critical condition. He ultimately survived his injuries.
Detectives from the Major Crimes Unit responded and through their investigation and sharing information with other law enforcement agencies, they identified Jonathan Adontay Mack (pictured top left), 27, of Washington, D.C. as the suspect. On March 8, the Sheriff's Office obtained a warrant charging Mack with attempted first- and second-degree murder, armed robbery, first- and second-degree assault and reckless endangerment.
Mack is currently incarcerated in the District of Columbia on unrelated homicide charges. He was arrested by the Metropolitan Police Department for that case in January and his warrant will be served in Charles County once he is extradited.
The Sheriff's Office's investigation revealed the shooting was the result of a robbery. Det. J. Elliott investigated.