'A Parent's Guide To Achievement Matters Most' Explains Education Priorities, Standards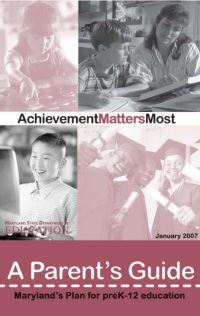 BALTIMORE - The Maryland State Department of Education has begun mailing to schools nearly 700,000 copies of
A Parent's Guide to Achievement Matters Most
, a booklet for parents that encourages their involvement in schools and reviews statewide testing programs, the voluntary state curriculum, and accountability measures.
The booklet introduces parents to the goals of Achievement Matters Most, Maryland's plan for preK-12 public education. This is the sixth year that MSDE has published the popular guidebook. It includes a variety of information about the upcoming Maryland School Assessment program, which students will be taking this month.
Mailing of the guide began in February. Maryland public elementary and middle schools should receive enough copies of A Parents Guide to Achievement Matters Most for all parents and teachers of students in Grades K-8. Upon request, copies also may be provided to high schools.
School principals have been urged to distribute the publication as soon as they receive copies. Principals also have been encouraged to discuss the information in
A Parents Guide to Achievement Matters Most
with teachers at faculty meetings and with parents at every available opportunity.
An online version of the guide is available at
http://www.msde.state.md.us/hsaexam/pubs/Parent%20Guide1-07.pdf
Source: Maryland State Department of Education