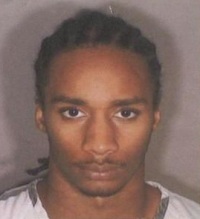 LEONARDTOWN, Md. - The suspect in the armed robbery of the Callaway, Md. Food Lion turned himself into Maryland State Police today. A clerk at the grocery store was robbed on February 22, 2007 when confronted by the suspect who was allegedly wielding a knife.
On March 6, Justin Dewitt Carter (pictured above), 23, with no fixed address, turned himself in at the Maryland State Police Barrack in Leonardtown. Detectives from the St. Mary's County Bureau of Criminal Investigations (BCI) took custody of Carter and charged him with Armed Robbery, Theft and 2nd Degree Assault.
Police determined the identity of the suspect yesterday, March 5, and promptly alerted local media via a wanted poster that identified the suspect by name and a police arrest photo.