The University of Virginia's Larry Sabato to Discuss America's Political Future March 7, 7:30 p.m.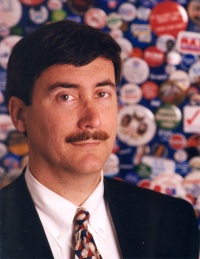 ST. MARY'S CITY, Md. - Larry Sabato (pictured at left), University of Virginia political science professor and analyst, comes to Southern Maryland to discuss his "crystal ball" method for election analysis.
Sabato was described by the Wall Street Journal as "probably the most quoted college professor in the land." The Washington Post called him "the Mark McGwire of political analysts."
"Larry Sabato's visit to St. Mary's College is a unique opportunity for our students and the community to interact with one of the nation's most prominent political scientists and commentators," said Zach Messitte, assistant professor of political science and director of the Center for the Study of Democracy at St. Mary's College of Maryland. "With the wide open 2008 presidential campaign already upon us, Sabato's visit couldn't be more timely," he said.
Sabato's latest book is
The Sixth Year Itch: The Rise and Fall of the George W. Bush Presidency
, due to be released in April 2007. The book helps students, voters and citizens to understand the issues and actions that mattered most in the 2006 midterm elections and it also previews the 2008 presidential race. Sabato's best known book is Feeding Frenzy: Attack Journalism & American Politics. He is also regularly updating "Sabato's Crystal Ball," a critically acclaimed election analysis Web site which accurately predicted results for the 2002 and 2004 elections. The address is
http://www.centerforpolitics.org/crystalball/
.
Sabato has served on many national and state commissions, including the National Commission for the Renewal of American Democracy; the U.S. Senate Campaign Finance Reform Panel; the Governor's Commission on Campaign Finance Reform, Government Accountability, and Ethics; and the Gover-nor's Blue Ribbon Commission on Higher Education.
After Sabato received his B.A. in government from the University of Virginia in 1974, he did a year's graduate study in public policy at Princeton University's Woodrow Wilson School of Public and Inter-national Affairs. In 1975 he was named a Rhodes Scholar. He received a doctorate from Queen's Col-lege, Oxford, in 1977. In 1978 he was elected Lecturer in Politics at New College, Oxford. Later that year he joined the faculty at the University of Virginia.
The lecture takes place on Wednesday, March 7, at 7:30 p.m. in Cole Cinema of the Campus Center at St. Mary's College of Maryland. The talk, sponsored by the Center for the Study of Democracy, is free and open to the public. Sabato, who is the Center's 2006-2007 Visiting Scholar, will also be working with students in an American politics class during the week. For more information, contact Zach Messitte at 240-895-4215.