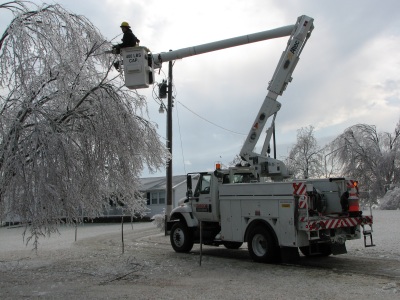 SMECO Journeyman lineman Jeff Spalding trims branches on a power line at a home near Waldorf. SMECO Photo.
HUGHESVILLE, Md. - Southern Maryland Electric Cooperative (SMECO) reported that power was restored to all 25,500 customers affected by weather-related outages as of Friday evening.
Damage from the winter storm was concentrated in the northern part of Charles County and the southern part of Prince George's County, where more than 15,200 customers were affected by weather-related outages. Nearly 7,500 customers in Calvert County and 2,800 customers in St. Mary's County were also left without power when the storm hit. All of the customers in those two regions had their power restored by Thursday night.
According to local weather reports, the area was blanketed by almost an inch of ice. The ice and wind took down trees and limbs which fell on power lines and caused most of the damage to the electric system. Over 1,347 separate incidents were reported, ranging from broken utility poles and downed power lines to blown transformers. Crews worked many long hours to restore electric service to local residents, even though temperatures hovered the teens and twenties.
SMECO crews began making repairs early Wednesday morning, and additional crews were called in to assist. Ten crews totaling 65 linemen were called in from Pike Electrical contractors in North Carolina. An additional seven crews of 20 people from co-ops on the eastern shore and Delaware, who also assisted with power restoration, brought the total to nearly 300 workers on site. SMECO's Call Center took almost 5,900 calls, and the Co-op's automated phone system took over 17,760 calls.