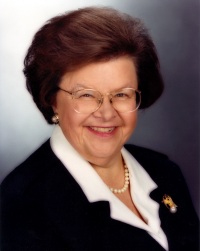 WASHINGTON – Senator Barbara Mikulski (D-Md.) will visit St. Mary's County on Tuesday, Feb. 20. According to Mikulski's office, "The meeting is part of the Senator's effort to visit with several of Maryland's incoming and returning local leaders to explain how they can work together on area needs."
During her visit she will first meet with military leaders at the Patuxent River Naval Air Station (NAS). She will tour the facility with the newly installed Commanding Officer of the Naval Air Systems Command (NAVAIR), Vice Admiral David Venlet.
After lunch, Mikulski will meet behind closed doors with representatives from the Patuxent Partnership and the Navy Alliance. Both groups are industry-related organizations that represent various defense contractors and support organizations that provide services to the Patuxent River military complex.
According to Todd Morgan, president of the Navy Alliance, Mikulski's office contacted them and requested the meeting. Morgan said that he has not yet seen the agenda for the meeting and therefore can not comment on the discussions that are likely to take place. A spokesman for the Patuxent Partnership referred us to the Navy Alliance for any information about the meeting saying that the Navy Alliance brought the meeting to their attention.
Following the meeting with the defense contractors, Mikulski plans to meet with the St. Mary's County Commissioners to discuss priorities for the county and how Maryland's federal delegation can help provide necessary resources to the region.
The St. Mary's County Commissioners did not return our phone call requesting more information about the meeting.
The meetings with the Navy Alliance and the St. Mary's County Commissioners will both be held at the facilities of local defense contractor Eagan McAllister Associates (EMA) in Lexington Park. Morgan, who is the president of the Navy Alliance, also serves as a vice president at EMA.
When asked why the meeting with the Commissioners was not being held in government-owned or public facilities, Mikulski's Communications Director, Melissa Schwartz, responded, "The location allows her to connect with a major employer (and constituent employees) in St. Mary's County and can accommodate the two meetings and participants."
Somd.com has also learned that Mikulski plans to have lunch with the Democratic Central Committee.