By HALLIE C. FALQUET, Capital News Service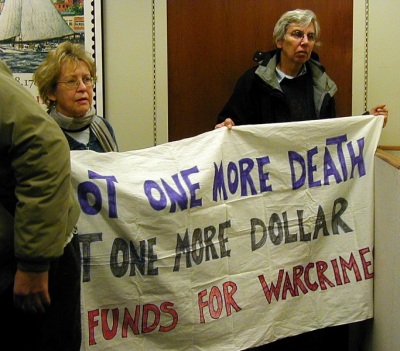 Mary Parker of Mt. Rainier and Susan Crane of Baltimore hold a sign in Sen. Mikulski's office protesting additional funds for the war in Iraq. Photos by Hallie C. Falquet.
WASHINGTON - Maryland protesters stood shoulder to shoulder in Sen. Barbara Mikulski's Washington office Thursday morning for an hour and a half, reading out loud the names of both Maryland and Iraqi fallen soldiers.
"Sen. Mikulski's heart is in the right place," said Mary Parker of Mt. Rainier with tears in her eyes, "but while Congress is figuring out what to do, Iraqis and Marylanders are dying...I know that hurts her (Mikulski)."
The anti-war protesters read to a sympathetic ear, for the Maryland Democrat not only voted against the war in 2002 and opposes the president's call to increase the number of troops in Iraq, but before spending her days in a Senate office, she was on the streets of Baltimore as a community activist.
That record is not enough for the vocal group of constituents—they demanded that Mikulski vote against the supplemental budget and additional funding for the Iraq war.
President Bush will present the supplemental spending bill to Congress in February to garner more funds for the troops in Iraq.
Groups like the Montgomery Branch of Peace Action, the primary organizer of Thursday's protest, want to stopper funding for the war as a means to bringing American troops home as soon as possible.
"Support our troops, bring them home," said activist Pete Perry of Derwood, his voice heavy with emotion, as he placed a tiny, green toy soldier on the reception desk in front of Mikulski's communications director, Melissa Schwartz.
As of Feb. 10, 55 Maryland soldiers died in the Iraq war, according to the United States Department of Defense.
While the senator was not present during the protest because she had to attend previously scheduled events, Mikulski made clear through Schwartz that police should not be called to evict the group, even when tensions escalated to the point that Schwartz fled the office.
"Will the senator vote yes or no on the supplemental budget?" former senatorial candidate and protest leader Kevin Zeese demanded to know, stepping closer to Schwartz in the already crowded space that separated them.
"Are you avoiding the question?" he said, louder.
Schwartz, who up to this point had politely heard out the unexpected guests, slipped by Zeese to leave the office when he pushed her in an apparent attempt to make her stay and answer the question, a move that fellow organizer Gordon Clark later apologized for.
"We may disagree, but that is totally inappropriate behavior," Clark said to an appreciative Schwartz.
Schwartz did not answer the question posed to her by Zeese because the supplemental budget is not a formal bill yet.
"How can she (Mikulski) have an opinion on something that doesn't exist?" Schwartz asked. "When the bill does exist, she will speak on it."
For protesters like Clark, though, that answer doesn't suffice.
"She doesn't understand what the supplemental budget is?" he asked, "What else does she need to find out?"
Although the activists did not meet with Mikulski Thursday, they left satisfied that they made their point and with plans to come back the week of Feb. 26.
"We are very, very proud of our ability to make an impression and send a message to our senator and to remember the dead of the war," Clark said.
"Maybe if she had the names of the Marylanders dying in the war read in her office every day she'd think differently about voting to continue funding it."